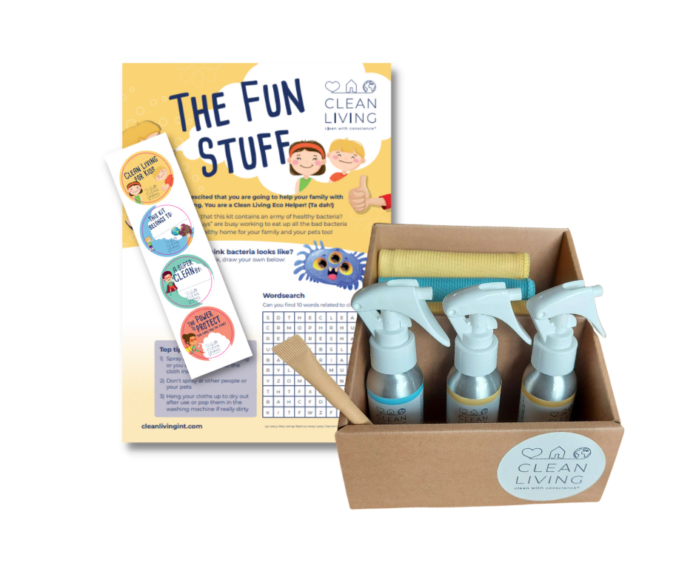 Clean Living International has created a Kids Eco-Friendly Cleaning Kit so that young eco-warriors can help around the home.
Each kit features mini 50ml bottles of the brand's Kitchen Cleaner and Degreaser, Glass Cleaner and Biological Multi-purpose Cleaner, as well as three microfibre cloths. The toxic-free formulas are completely natural and safe for children.
Packaged in a handy cardboard caddy, the kit also comes with a fun sticker sheet to help motivate children to complete their cleaning tasks and to customize their caddy and an instruction sheet for adults.
"It is common knowledge that many standard supermarket cleaning products are packed full of nasty chemicals that can harm your little ones, significantly increasing the risk of lung conditions like asthma, aggravating eyes and skin, and even potentially causing damage to internal organs if ingested," says Sue Caldwell, Clean Living International MD.
"Our new Kids Eco-Friendly Cleaning Kit allows children to play at being an adult and be just like you, without any risk of endangering their health. The kits are also a great way of educating little ones about our environment and encouraging them to take on responsibilities around the home, while helping you clean at the same time, so everyone is a winner!"
The brand has also launched a Mini Eco-Friendly Cleaning Kit which is aimed at university students, young adults moving out of home for the first time, or those beginning their eco-cleaning journey. The kit includes a Kitchen Cleaner and Degreaser, Biological Bathroom Cleaner, and Multipurpose Cleaner, as well as three microfibre clothes and two refill sachets for each product.
"The new Eco-Friendly Mini Cleaning Kit is ideal for those who are starting out and are looking for a few products to get going," explains Caldwell.  "This handy kit contains our 'power trio' of products to clean the whole home with just three versatile cleaners, making cleaning with conscience even easier."