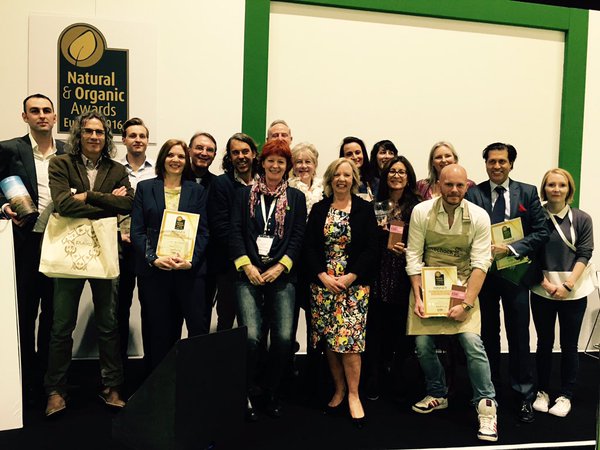 The winners of this year's Natural and Organic Awards Europe 2016 were announced yesterday at Natural & Organic Products Europe trade show. In a fitting finale to the awards ceremony, Dragon's Den star Deborah Meaden joined the winners on stage at ExCel.
The awards, which celebrate the standout brands and products of the year, were hosted by Natural Products News, in association with the Soil Association.
"The Natural & Organic Awards are now in their 21st year, and it's been fantastic to see them grow in stature – to the point, where now, they are the recognized benchmark for excellence in natural and organic," said Jim Manson, editor of Natural Products News.
"But as well as celebrating fantastic businesses and great products, the Awards also provide us with an opportunity to stop for a moment and celebrate the people – and the shared values – that make our natural and organic industry so special, and enduring. Congratulations to all of our fantastic winners and finalists," he said.
The 'best new product' awards were voted for by visitors to the show on Sunday 17 April and then judged by a panel of leading industry experts; including Al Overton (Planet Organic), Julian Wright (The Health Store), Julie Goodwin (Natural Health) and Jeff Martin (As Nature Intended). The 13 winners were selected from over 320 New Product Showcase entries, including food, health, beauty and natural living.
The winners:
BEST NEW FOOD PRODUCT
Bounce Foods – Coconut Lemon Protein Crush
BEST NEW SPECIAL DIET PRODUCT
Booja-Booja – Booja-Booja Dairy Free Ice Cream
BEST NEW DRINK PRODUCT
Pukka Herbs – Turmeric Gold
BEST NEW NATURAL LIVING & HOME PRODUCT
Tsuno – Tsuno Bamboo Sanitary Pads
BEST NEW HEALTH & NUTRITION PRODUCT
Nutristrength – Goat & Sheep Whey Protein
BEST NATURAL BEAUTY PRODUCT
Tabitha James Kraan – Organic Dry Shampoo (compact)
BEST MALE GROOMING PRODUCT
Kinetic Natural Products Distributor– Jason Men's Range Forest Fresh
BEST MOTHER & BABY PRODUCT
Natrasan – Natrasan First Aid Spray
BEST NATURAL SKINCARE PRODUCT
Hope's Relief & Bodyverde – Topical Spray
BEST NATURAL COSMETIC PRODUCT
Inika Cosmetics – Vegan Lipstick
BEST ORGANIC BEAUTY PRODUCT
YES Organic Intimacy – YES Cleanse Organic Intimate Wash
NATURAL PRODUCTS SALES PERSON OF THE YEAR
Winner: Bob Parker, G & G Vitamins
Finalist: Bridget Cole, Pukka Herbs
BEST INDEPENDENT RETAILER – sponsored by Pukka Herbs
Winner: Wild Oats, Bristol
Finalist: Mulberry Bush, Lampeter
Finalist: Nature's Corner, Newbury
BEST MULTIPLE RETAILER (new) Winner: Holland & Barrett
Finalist: Revital
Finalist: Wholefoods
Finalist: Planet Organic
Finalist: As Nature Intended
BEST NEW ORGANIC FOOD PRODUCT – in association with the Soil Association
Superfoodies – Lovechock Mylk Cranberry Buckwheat
BEST NEW ORGANIC PRODUCT – in association with the Soil Association
Viridian Nutrition – Scandinavian Rainbow Trout Oil
NATURAL PRODUCTS OUTSTANDING ACHIEVEMENT AWARD
Winner: Lynn Lord, Natures Aid