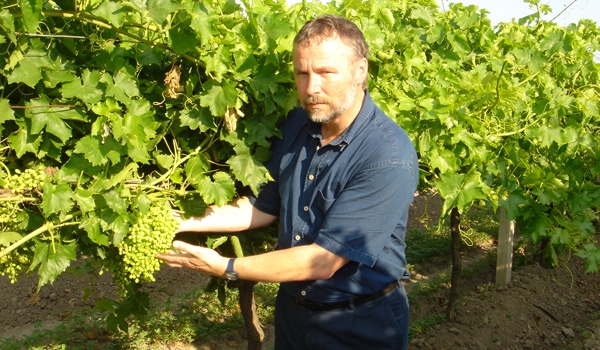 Natural and organic foods pioneer Community Foods is in optimistic mood as it looks forward to a big birthday. NP editor Jim Manson has been to north London to experience the Community spirit.

Next year Community Foods will celebrate 40 years at the very heart of the health food trade.
It's been quite a journey — from five friends selling lentils out of a north London squat, to a £55m turnover business with 13,500 sqm of purpose built warehousing and offices at Brent Cross. Down the years some of Community's earliest customers — small health food retailers, and fledgling natural food brands —have become well-known names in their own right, helped along the way by the genuinely community-spirited wholefood pioneer.
"Down the years some of Community's earliest customers — small health food retailers, and fledgling natural food brands —have become well-known names in their own right, helped along the way by the genuinely community-spirited wholefood pioneer."
At the end of last year Community Foods appointed a new managing director in the form of Martin Rome, who joined the business from dried fruit specialist Whitworths. The appointment, coming just ahead of the company's big birthday, has an almost symbolic feel — not least because Rome takes the post over from one of its earliest rercruits, Bill Henry (who remains on the Community board).
With this in mind, NP recently went to speak to Bill Henry and fellow 1970s recruit, Tim Powell, to hear about Community past, present and future.
It started with some lentils
Sitting at one of the tables in the staff canteen (Community still provides an excellent staff lunch every day) I ask Henry about the very beginnings. "It literally did involve five people each putting in £5 to buy lentils — the first thing we ever sold from a small shop in Prince of Wales Crescent in Kentish Town. But as soon as we got going we had people from all over the country coming to pick up pulses, grains, wholefood pasta and so on. For example, I remember Sue Croft and her husband Phil coming all the way up from Cornwall. It was a crazy set up in many ways, with the 'warehouse' upstairs from the shop. There was always someone lugging a heavy sack through the shop and up the stairs."
Many of those early customers became lifelong friends, says Powell. "We were a community of friends. That always was so important to us."
When Community Wholesale, as it was known then, moved to Tolmer's Square in Euston in 1976, trading moved up a couple of gears. Henry recalls: "We were beginning to shift quite a bit more and starting to export." But it was the move to premises at Brunswick Park in 1979 (on the same day Margaret Thatcher came to power, to add further poignancy) that enabled Comm-unity to really expand its range.
File under Bill
Partly as a result of having a lot more space, and partly because of an upsurge in interest in healthy eating, turnover increased fivefold between 1979 and 1987, the year when Community took on its current premises near Brent Cross. With the move to Brent Cross came a step change in the number of products offered. It was also when Community — focused up to then mainly on ingredients — started to develop its branded products business.
Over this period Community had been developing a network of growers around the world.
Recalls Henry: "One of the most rewarding parts of the job has been the fantastic relationships we developed and nurtured with farmers. Turkey became very important to us early on and since the very eighties I've been going out there a couple of times a year at least. I know the farmers so well that they file our paperwork in box files just named 'Bill'!
"A lot of the people we dealt with in the early days were pioneers too. So, we've seen our suppliers grow up — sometimes literally. What's special is that these relationships are mutually supportive, so when someone has difficulties others will help out."
Community today
Community Foods today is the UK's biggest specialist natural foods importer and distributor with a £55 million turnover, three-site operation employing over 100 people, and with its sights set on being a £60 million turnover operation within the next 15 months.
Powell, who heads up the brands operation, believes Comm-unity's 40 year grounding makes it well placed to maximise new opportunities. "Over the years we've been very successful at spotting trends, from organic to special diet, Fairtrade to non-food. We've got a big drive currently going on with ingredients, with big investments being made at our Day Plus One operation. And both our own brands — Community, Crazy Jack, Ethletic, Fair Deal Trading, Sanchi and Green Tips — and our agency brands — Orgran and Nature's Path among them — are doing well."
Strong future
New MD, Martin Rome, meanwhile wants to see Community offering sector-leading customer service: "For everyone it's going to be really important to do what you do just a bit better and to increase focus. I'm sure we'll be looking at some new things — we'd like to increase the number of agency brands we represent — and some new origins.
"We have financial security, great skills and resources, and we're not afraid of the challenge. Few companies can deliver what we do and so I'm absolutely sure Community has a very strong future."
"We have financial security, great skills and resources, and we're not afraid of the challenge. Few companies can deliver what we do and so I'm absolutely sure Community has a very strong future."
To date then, what has made Community veterans Bill Henry and Tim Powell, most proud? "There have been some great highlights, like receiving the Royal Warrant to supply dried fruit and oats to Highgrove and Clarence House," says Henry. "But I think in the end it's about people; whether it's the fantastic relationships — and friendships — with growers and customers, or seeing our own staff grow and adapt." Powell agrees: "People are really important here. Aside from always striving to be professional and successful at what we do, we've tried to create a culture here that's good to work in. Giving something back to the people who work here is just as important as trying to give something back to society."