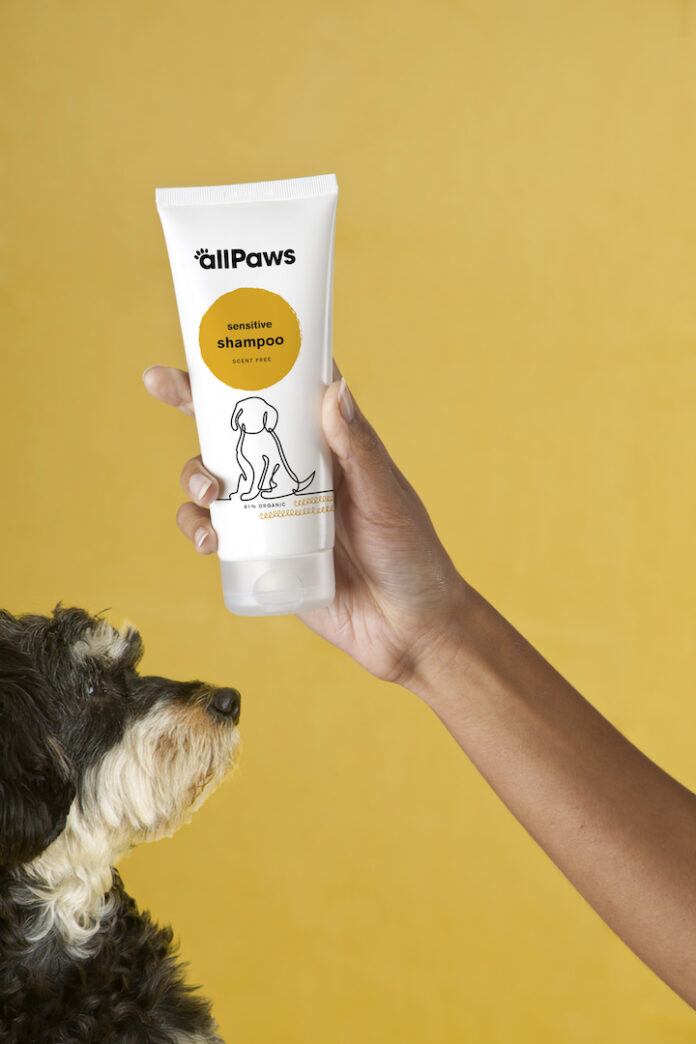 Natural and organic beauty pioneer Green People has started pampering pets as well as people with the launch of the UK's first certified organic range of pet grooming products, allPaws.
Created for those who want to avoid exposing their pets to synthetic ingredients, the vegan-friendly, cruelty-free line allPaws is made with gently cleansing, pH-balanced animal-safe plant actives that are sustainably sourced and suitable for all dog and cat breeds.
Packaged in eco-friendly squeezy tubes, the first two allPaws products are a duo of highly concentrated cleansing pet washes that won't irritate sensitive skin and come in a choice of scented or scent-free formulas:
AllPaws Wild Mint Cleansing Shampoo is formulated to freshen musty dog smells with a soothing blend of mint and eucalyptus bath bubbles which leave fur soft and fragrant, and is suitable for all breeds and puppies aged 12 weeks and over
AllPaws Sensitive Shampoo is an unscented shampoo designed for dogs with extra sensitive skin with a gentle formula suitable for all breeds and ideal for a puppy's first bath.
"We're a nation of animal lovers, but there's no doubt that the past year has really underlined the importance of the role our furry friends play in our lives," says Green People founder Charlotte Vøhtz. "We need to treat them in the right way. Their skin can be just as sensitive as our own and it's vital we treat their skin and hair as carefully as we do our own.
"That's why we created allPaws – like our skin care, it's a range for every skin type. AllPaws is suitable for puppies and dogs with the most sensitive of skin, and infuses a blend of dog-friendly plant actives to cleanse and soothe, naturally."
The products are approved by The Vegan Society.