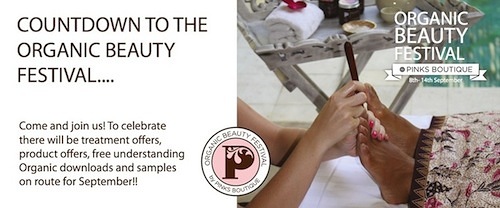 Luxury spa brand Pinks Boutique is holding its second annual Organic Beauty Festival throughout the Soil Association's Organic Beauty Week.
The company is making available a selection of specially created marketing materials and promotional tools including artwork and POS pendant hangers, posters, gift-with-purchase offers, free samples.
A social media campaign is also in place to get #OrganicBeauty trending on Twitter at 11am on 8 September.
Company founder Kirstie Sherriff explains: "The week-long festival aims to shine a spotlight on organic beauty and its benefits … while increasing product sales. Our Soil Association organic certified status gives customers confidence that what is in the pot contains pure, natural, organic ingredients grown without the use of pesticides, which is good for the skin and the environment.
To find out more and get involved, visit www.pinksboutique.com or call 01332 863 261.