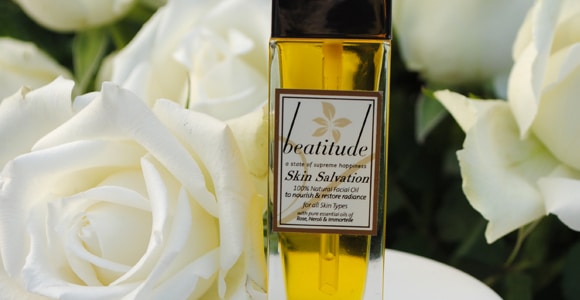 Luxury aromatherapy brand Beatitude has launched a new face oil incorporating Immortelle, Rose and Neroli.
The brands hopes Skin Salvation will be a firm favourite for consumers looking for natural alternatives to synthetic facial oils. It uses only pure essential oils and easily-absorbed plant oils to restore the skin's radiance.
Founder Rebecca O' Connor said: "As a beauty therapist and aromatherapist myself, I saw there was a gap in the market for a natural aromatherapy facial oil that encompassed the three big hitters of the anti-ageing essential oil facial world: Rose, Neroli and Immortelle.
"I also wanted to include some of the amazing regenerative and healing plant oils that are now widely available, rather than just using a typical almond oil which can feel quite heavy on the skin.
"After using the Beatitude Skin Salvation on your skin there is a sense of serenity and the skin feels nourished and pampered."
The Beatitude Skin Salvation is packaged in a sumptuous Italian glass bottle with a non-spill silver pump dispenser, at £36 for 30ml.