Wiley's Finest adds Cholesterol Support to its growing line of omega-3 products in the UK.
Launching at the end of March, the latest product from the American fish oil supplements company will be showcased at Natural & Organic Products Europe (22-23 April, ExCel London).
Cholesterol support isn't the sexiest product … but it has some of our biggest superfans; people who understand it works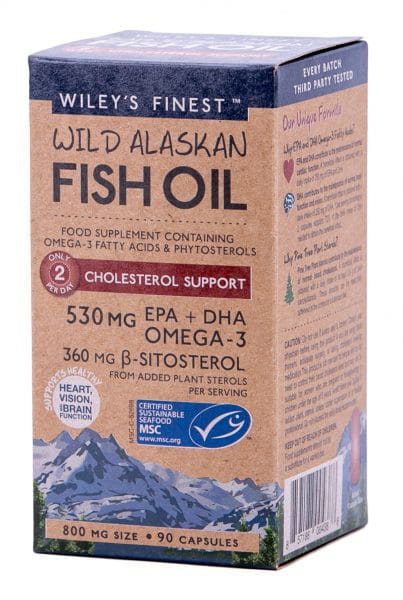 The latest in a growing line of omega-3 fish oil supplements brought comes Wiley's Finest in the UK, Cholesterol Support has been designed to promote heart health in men and women. Made using unique formulation, it contains 50% purified and concentrated EPA and DHA omega-3 fish oil from certified sustainable wild Alaskan Pollock, and 50% non-GMO Pine Tree Sterol Esters.
Wiley's calls the plant sterol component of the product a 'best in class alternative' to the corn and soy sterols commonly used by the brand's competitors to support healthy cholesterol metabolism.
Recommended to be taken with food for maximum results, Wiley's says the product supports 'healthy blood vessel function and circulation and to aid healthy cholesterol levels and triglyceride', providing what Sam Wiley, managing director, calls an 'effective choice for a natural solution to maintain healthy cholesterol levels'.
We think this will be a good sleeper hit
Speaking during a recent interview with NPN, Sam Wiley, managing director, said: "Cholesterol support isn't the sexiest product … but it has some of our biggest superfans; people who understand it works. It's not a magic bullet but, conservatively, people see about a ten-point reduction in their LDL. With a combination of fish oil, it's possible to see a 20-point reduction. We think this will be a good sleeper hit. Sometimes it's less about total product volume and more about that loyal following. That positive, meaningful impact on people's quality of life, their wellbeing: that's the reason we do what we do."