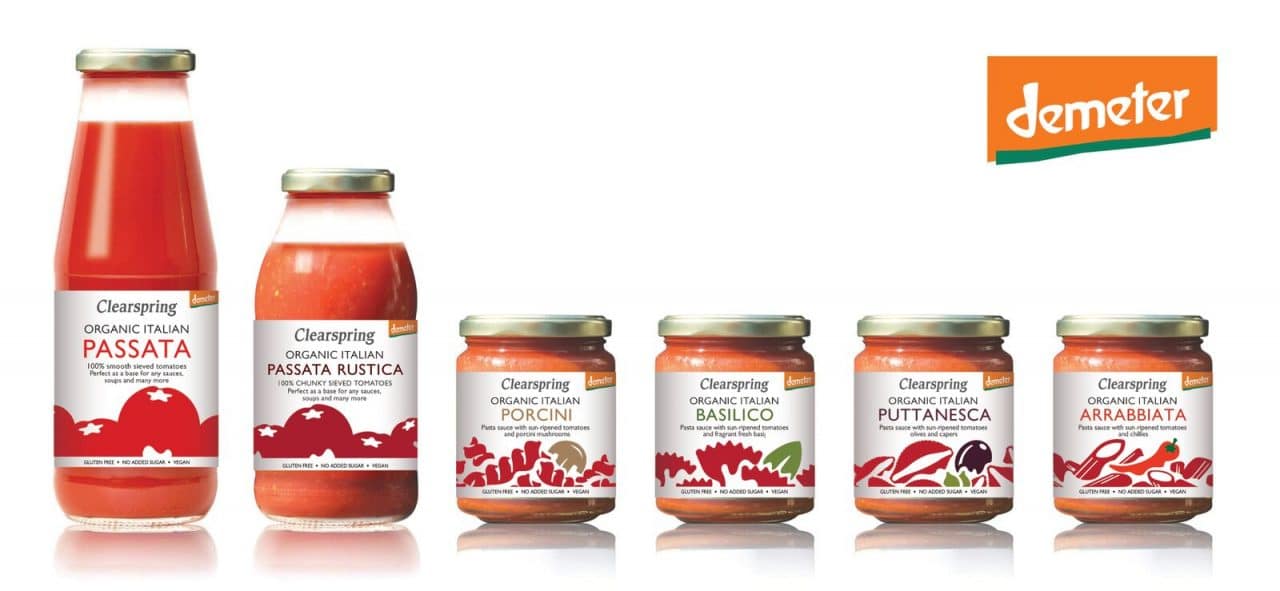 Organic food brand Clearspring has launched a new range of Biodynamic Demeter Organic Italian Pasta Sauces and Passatas to complement its existing range of Organic Italian Gluten Free Pastas.
The products contain no added sugar, instead taking their natural sweetness from the rich biodynamic tomatoes grown outdoors in Italy, offering consumers a healthier choice in their cooking. The sauces are presented in clear glass jars to maintain the quality and full flavour of the ingredients. Based on simple, authentic Mediterranean recipes the sauces and passatas contain no additives or preservatives, and are suitable for gluten-free and vegan diets.
The Demeter Sauces and Passatas are made from 100% Italian Tomatoes, grown, picked and pulped on a biodynamic farm in Northern Italy by a group of organic farming specialists.
The Clearspring Biodynamic Organic Italian Sauces range is made up of six variants: Passata; Passata Rustica; Arrabbiata Pasta Sauce; Basilico Pasta Sauce; Porcini Pasta Sauce; Puttanesca Pasta Sauce.
"We are really excited about expanding our Demeter range with the new Organic Demeter Italian Pasta Sauces and Passatas," says Maria Dawson, sales & marketing director at Clearspring. "Using traditional biodynamic farming methods, the tomatoes are grown in Italy and bottled within six hours of harvest. We are thrilled to offer pasta sauces and passata that have no added sugar, which is very unique in the current sauces category. Our founder, Christopher Dawson has been passionate for many years about biodynamic and organic agricultural methods and we are delighted to be able to add these authentic sauces to our existing Italian range. You may know us for our Japanese products, but we also have an extensive Italian range too! ''