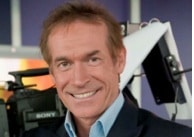 Britain's best known media GP, Dr Hilary Jones is joining forces with popular bowel health product Lepicol, in order to help promote healthy bowels and the benefits fibre can have to assist in their maintenance.
Dr Hilary will be working with Lepicol throughout 2012 on a number of initiatives including writing an educational article for Lepicol entitled 'Irritable bowel syndrome and the role of fibre'.
Dr Hilary will be available to talk about bowel health in person and distribute copies of his new article on the Lepicol stand (1013) at Natural and Organic Products – London Olympia 1st and 2nd April 2012. (Dr Hilary attending 11am – 2pm Monday 2nd April).
"Maintaining bowel health is incredibly important and fibre can help play an important part in this maintenance. It is exciting to be working with a product such as Lepicol that helps educate and encourage people to think about their bowels." Dr Hilary Jones
Says Lizzie Hardy, the company's head of marketing:
"We are delighted to be working with such a well respected healthcare practitioner in order to create even wider awareness of the importance of bowel health"