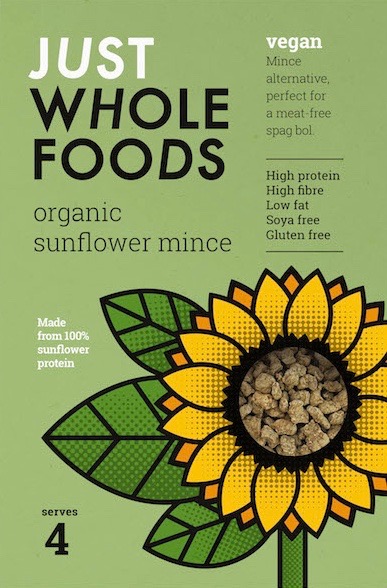 Cotswolds-based Just Wholefoods has added to its range of plant-based foods with its latest 100% vegan innovation, Organic Sunflower Mince.
The mince, which is adorned with Just Wholefoods' new livery, is made solely from sunflower seeds and boasts a high protein content above 50% as well as 20% of fibre per 100g. The mince is also low in fat, soya-free and gluten-free and has only 60 calories per serving.
"Just Wholefoods offers inclusive, plant-based food choices that are suitable for everyone," explains company director Nadia Morse. "This includes vegans, vegetarians, flexitarians and the veggie curious who are looking for options that not only fit in with their busy lives but also deliver nutritionally. That's why we are so excited about our vegan and Organic Sunflower Mince: it's easy to prepare, packed with protein and fibre, and unlike other meat alternatives, low in salt and made without soya."
To prepare, the mince is simply rehydrated with water and can then be used in any recipe requiring mince such as spaghetti Bolognese, chilli, lasagne or stuffed peppers. Each packet makes up to four servings.