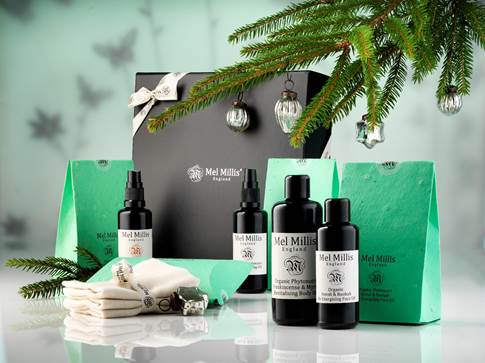 Luxury organic skincare brand Mel Millis has released two limited edition gift boxes featuring the brand's plantable mini seasonal gift bags embedded with Christmas tree seeds.
The Phytonutri Daily Discovery Gift Box is packed with Mel Millis's most popular products, including Phytonutri Daily Cleansing Oil; Neroli Hydrolate Mist Tonic; Phytonutri Neroli & Baobab Re-Energising Face Oil; and, to celebrate the festive season, a complementary Frankincense & Myrrh Body Oil.
The Phytonutri Qi Skincare Essentials Gift Box contains all four products from the brand's recently launched Phytonutri Qi range which combines supercritical Arctic extracts, bio-active oils and hyaluronic acid. The products are Plankton Skin Remedy; Energising MM Face Peel; Enriching Sea Plant Jelly; and Enhancing Arctic Essence. The gift box contains a porcelain mixing vessel – designed exclusively for Mel Millis by ceramicist Emma Clegg – for use with the Skin Remedy.