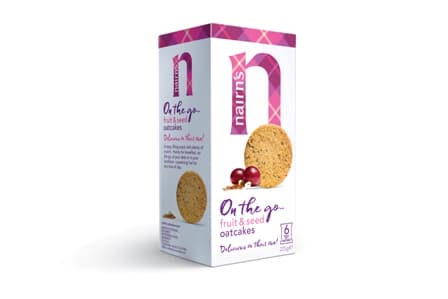 Nairn's has launched all-new Fruit & Seed Oatcakes aimed at families and busy women on-the-go.
Made with wholegrain oats, currants and brown flaxseed, the oatcakes aim to provide a tasty wholesome alternative to biscuits and cereal bars, offering slow release energy for those looking for healthier snacks on-the-move.
Each box contains six portion packs of three oatcakes to keep them fresher for longer. The handy pouches are designed for breakfast or morning coffee, lunchboxes, desk drawers or to pop into a gym bag or handbag.
The oatcakes are low in sugar, wheat-free, nut-free and are suitable for vegetarians and vegans.