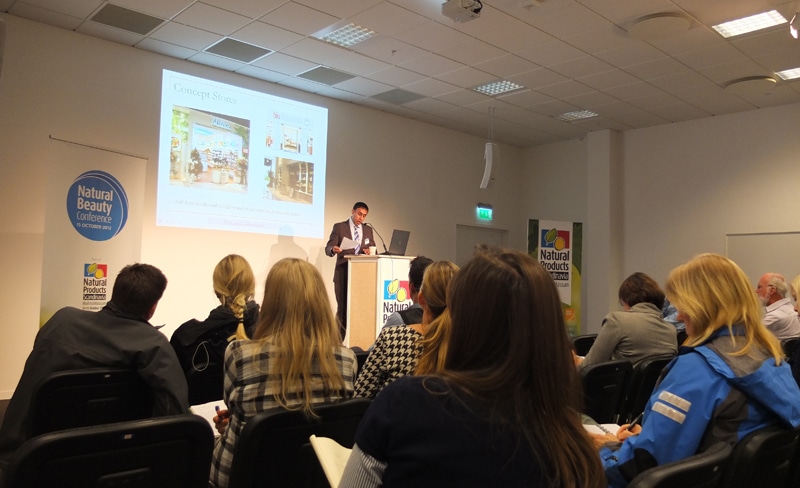 Slowing market growth, increasing private label activity and the rise of concept stores are three of the top trends in the natural beauty category, identified by leading analyst Organic Monitor.
Organic Monitor's Amarjit Sahota says that in the coming years 'natural' and 'organic' are "likely to become a baseline" for the category as specialist brands seek to differentiate themselves with their sustainability, eco and carbon credentials.
Sahota made the prediction in a talk on the European and Nordic natural products market at the inaugural Natural Products Scandinavia event (14-15 September) in Malmo.
Crowded shelves
Looking at headline trends, Sahota cited an overall slowdown in market growth rate and the rising number of competing products. Competition for shelf-space was also likely to be a growing issue as the natural personal care sections of specialist retail stores reached saturation point.
Summarising channel trends Sahota highlighted the category's growing penetration in the supermarkets and major multiples and the accompanying increase in private label ranges. These weren't just confined to supermarket and drug store chains in Europe, fashion retailers – H&M was one example – were also getting in on the act.
Concept stores
Organic Monitor also flags the rise of the 'concept store' – both single-brand led, like the Melvita outlets, but increasingly the multi-brand stores like Biu Beaute Bio.
Looking at the future outlook, the London-based analyst predicts that short to medium-term growth is likely to come through non-specialist channels, with private labels continuing to gain popularity.
Sahota told his audience in Malmo that there would be pressure on specialist brands to differentiate themselves better as the category moved firmly into the mainstream.
One way to do this was to develop new messages around sustainability, carbon policy and eco packaging – think of Aveda's advert proclaiming "the first beauty company manufacturing with 100% wind power", or Pangea Organics 'ecocentric' marketing messaging.
International standard?
Another was to get products certified ("expect to see rising visibility for logos"). The question is which logo, he said: "You can't afford to have four logos if you are a European brand – customers would just be confused, and they'd be paying for it four times over." For that reason there were likely to be more calls for a single international standard.
Other trends to look out for included growing segmentation within the category, such as the targeting of specific demographics – Sahota highlighted the brilliantly blokey Bulldog, and the teen-friendly Amie range from former Estée Lauder exec Fiona Parkhouse. Food ingredients were also increasingly making their way into natural beauty products – yesto's blueberries range and Weleda's pomegranate range being two examples of the trend.
• Sustainable Cosmetics Summit: European Edition will take place in Paris on 21-23 November 2012. For more information click here.