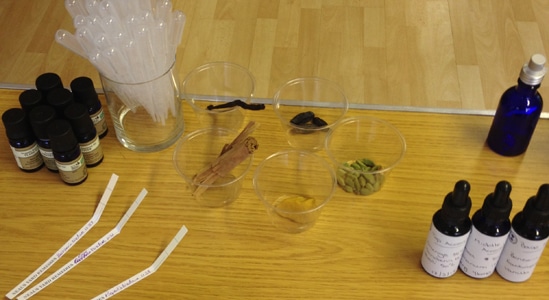 As more consumers discover the beauty benefits of natural perfume, guest blogger Lucy Kamper follows her nose to a Neal's Yard natural perfumery course
As a nutritionist, using natural beauty products is as important to me as eating organic.
But I'll be honest, the transition to natural perfume has not been as easy as with other beauty products. Some health stores have a good selection, but finding 'your scent' is never easy.
I realised the only way I could have a unique fragrance made purely from essential oils would be to make my own. If Britney and J.Lo could do it, so could I!
My search led me to the widely acclaimed Neal's Yard courses. I have always loved their products so it made sense to go with the trusted brand.  Our teacher, Karen Gilbert, was a name I had seen all over the internet and she's definitely an authority on fragrance, both natural and synthetic.
"Due to the increasing restrictions in the perfumery industry and the decreasing budgets, the majority of fragrances you find in the shops have very few natural ingredients," explained Gilbert.
"With more and more people turning to natural and organic in their everday lives I decided to teach people how to make their own fragrances with their own choice of materials."
"As I come from a perfumery industry background first and the natural/aromatherapy background secondly I teach with a balanced view of the whole industry. As well as lots of theory and practical on the day, students go away with the tools to continue studying and making perfume on their own."
The morning started with learning about the science of smell and 'how to smell' with samples of wild rose and frankincense to get our brains and noses in tune. We were encouraged to describe the odours with any words that came to mind such as 'Christmas', 'medicinal' or 'liquorice'. We learned that building 'picture bridge's and associations are the best way to remember smells.
This was followed by a brief journey through the history of perfume and some synthetic samples including Jicky by Guerlain and Chanel no.5. This was to demonstrate the classics and the fact that some scents cannot be made from natural ingredients.
We also looked at the different fragrance families and odour classifications such as citrus, herbal, floral, green, woody and spicy. Blending techniques were also on the agenda, the most accurate way being the Jean Carles method, which uses simple ratios to create a harmonious accord.
As we were creating a fragrance in an afternoon we went for a simplified blending plan (perfumers can take years to get a fragrance right). We were encouraged to use up to three oils for each note (top, middle and base) and the practical element was like an exciting science experiment –  with the added anticipation of whether you would actually like the smell of your concoction!
After some deliberation I chose grapefruit, mimosa and bergamot for my top note, which is the first impression of the fragrance. The technique is to start with one drop of each material, initially combining the two oils that are most similar. If one dominates, you add one drop at a time until you reach your desired scent.
You then add in the third material in the same way until you have your note. This is then repeated for the other two notes. The middle note, which in my case was jasmine, litsea and juniper, is the character of the fragrance and the base note, benzoin and tonka, gives body and longevity to the perfume. The whole process is then repeated to get your top, middle and base notes into the same bottle, treating them as if they were individual oils. Perfumer's alcohol is added – and then hey presto!
I'm sure a perfumer would consider my fragrance a disaster, but I'm pleased with my L'eau D'Lucy. I had imagined it to be more citrusy and the jasmine did dominate, but I'm looking forward to more experimentation. From the quality of the teaching you can tell that Neal's Yard are passionate about sharing their knowledge with their customers and there are many opportunities to learn about perfumery, homeopathy, nutrition, herbal remedies, aromatherapy, massage and natural beauty from their courses.