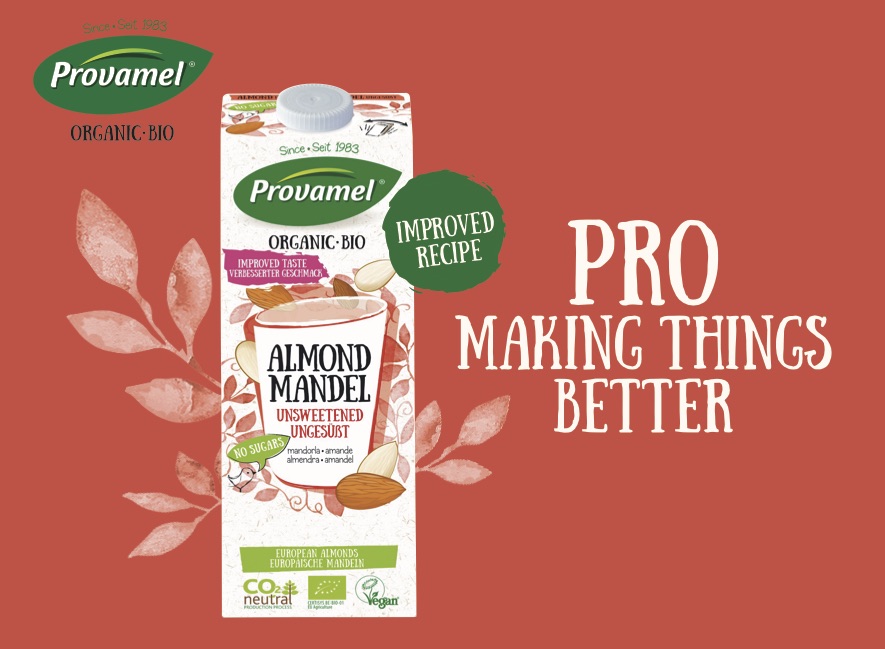 Plant-based food and drink specialist Provamel has unveiled a brand new look for its organic drinks range to highlight key ingredients and increase shelf appeal.
The 21-strong range of ambient drinks now feature new designs with hand-drawn ingredients and plant-based cues. The packaging carries The Vegan Society logo as well as Provamel's own 'CO2 neutral production process'.
"This exciting redesign forms the first stage of a major overhaul for the Provamel brand, and is aimed at keeping the brand relevant with existing fans, as well as attracting new ones," explains Vicky Upton, Provamel's head of marketing.
"With sales of Provamel and plant-based food and drink continuing to perform strongly, this is the perfect time to refresh and rejuvenate the look and feel of our range, creating greater standout on shelf and helping shoppers to build an even stronger emotional connection with our brand through more emotive visual cues."
The brand has also reformulated its Almond Original and Almond Unsweetened drinks to deliver a more delicate, light roasted almond taste.
"Both reformulated drinks contain lightly roasted European almonds, and the new softer texture of both drinks make them perfect to enjoy on their own, in baking or for simply adding to tea and coffee," says Upton.
The rest of the Provamel range will be given a similar makeover in October, backed by a 360° campaign including advertising, PR, social media and in-store marketing.
"The new-look range will be underpinned by a campaign celebrating the virtues of choosing plant-based food and drink through a new range of 'Pro…' straplines that dial up our core pillars of offering great tasting and sustainable organic food and drink," concludes Upton.