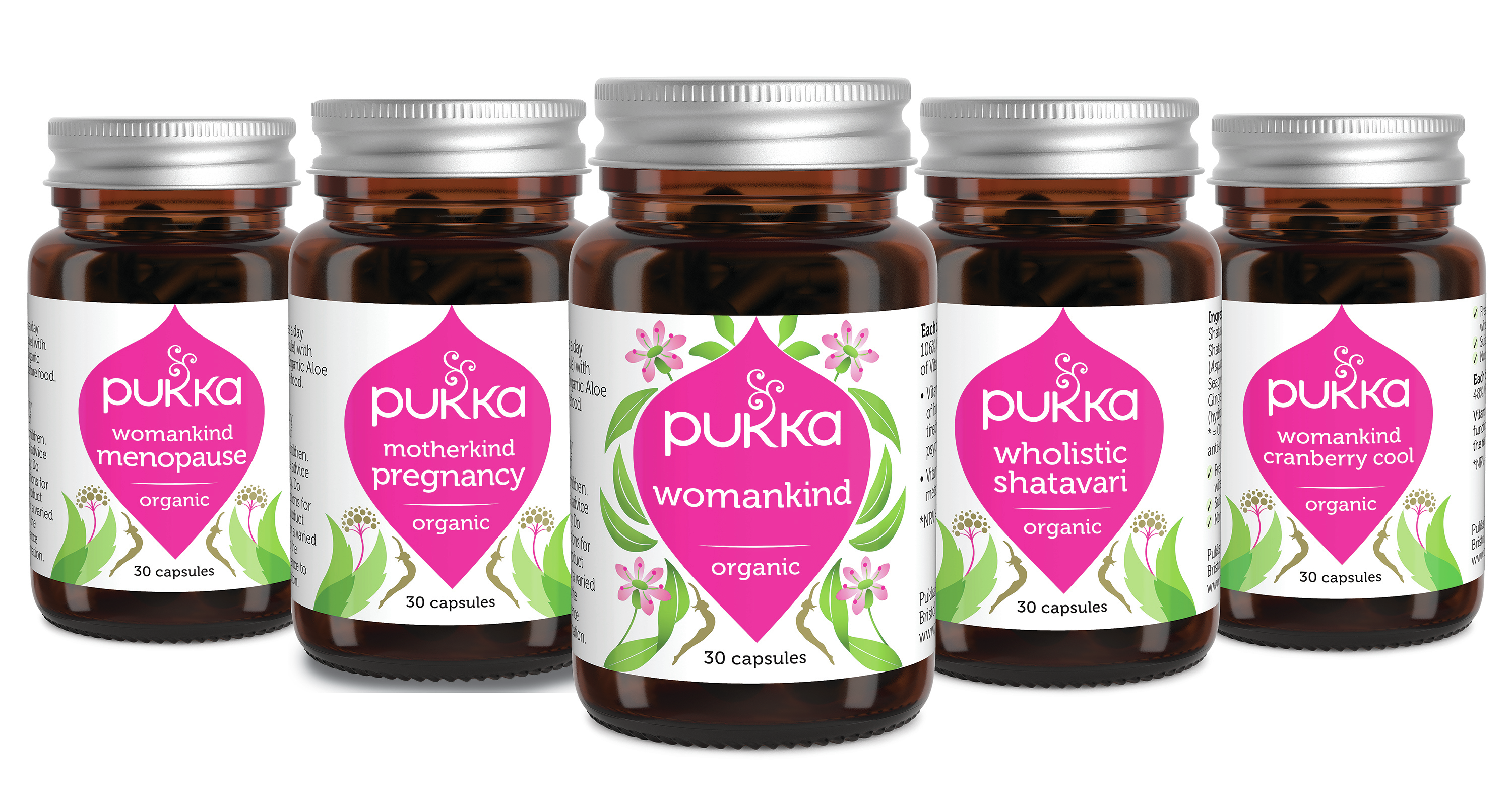 Pukka Herbs is introducing three new 100% natural herbal supplements to its women's health range next month.
Womankind Cranberry Cool is designed to naturally calm UTIs with natural vitamin C to strengthen the immune system and natural antiseptics to fight infection and encourage pain, heat and swelling reduction. Cranberry acts as urinary antiseptic; shatavari and aloe vera help ease inflammation and irritation; and fennel has strong anti-inflammatory properties.
Motherkind Pregnancy has been formulated to nurture conception and pregnancy and blends shatavari and maca with 15 organic essential natural vitamins and minerals including folate, vitamin D and zinc, to nourish the reproductive organs and support healthy conception and pregnancy.
Womankind Menopause is a botanical formula with organic vitamins B and D to help alleviate symptoms of the menopause including hot flushes and the regulation of hormonal activity. Vitamin D helps reduce the risk of osteoporosis; pomegranate is a natural source of oestrone helping to balance women's hormones and improve libido; and ashwagandha nourishes the nervous system and adrenals, helping to reduce anxiety.
All the supplements within the women's range have one key ingredient in common: shatavari, a renowned tonic for the female reproductive system, which helps to balance hormones, enhance fertility, promote conception and reduce menopausal and menstrual symptoms.
As with all of Pukka's supplements, those in the women's range have been formulated by herbalist and Pukka co-founder Sebastian Pole. "Oestrogen is one of the most well-known and prolific hormones in women's health. When out of balance it can influence the onset of conditions such as endometriosis and PMS, and may have an affect on fertility and normal metabolism. As a practicing herbalist I see many women suffering with ailments linked to hormones so I was committed to developing a bespoke women's range, with five targeted herbal and 100% natural supplements to help support female health and vitality."
The three new supplements bring the Pukka Herbs' women's supplements range to five, along with the existing products Wholistic Shatavari and Womankind.