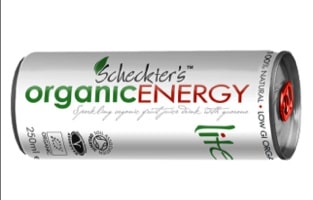 British drinks company Scheckter's Organic Beverages has finished a strong first year by launching into three new international markets.
Scheckter's OrganicEnergy, quickly established as a strong seller in the UK, has already launched successfully in South Africa and will hit shelves in the USA and Australia from this month. Distribution is confirmed in over 6,000 stores in the US alone in retailers including Wholefoods, Target and Vitamen Shoppe.
Now a new Lite variant has just launched into the UK market, retailing at £1.35 for 250ml. The new variant is also being launched into the South African, American and Australian markets this year.
Comments company founder, and former racing driver, Toby Scheckter: "Since launching a year ago into the UK market we have gone from strength to strength, expanding into three large international markets and securing distribution in several of the largest multiples in the UK. With demand high for a low calorie version we are excited for the opportunities the new LITE variant offers to retailers – appealing to the growing female market at a good price per litre."