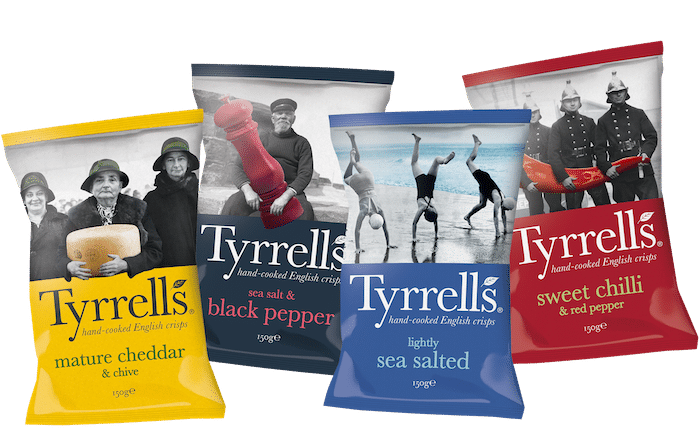 Tyrell's crisp brand has carried out a package refresh to roll out this month in a bid to increase brand and flavour recognition.
The eccentric black and white photos, which are a signature of the brand, remain on-pack but have been tweaked with splashes of colour and a bolder typeface.
"Our new design will benefit both retailers and consumers, driving up pack recognition and purchase intent," commented Tyrrell's marketing director Jocelyn McNulty. "We saw a significant increase in purchase intent when new packs were researched independently against our existing design and competitors."
She adds: "Positive consumer feedback on the new design has also revealed a more apparent link to our fun and eccentric personality, which is fundamental to the brand and its success."
The refresh coincides with the launch of a new summer seasonal Butter & Mint variety, using the quintessential flavour combination of fresh locally-grown potatoes seasoned with butter and mint.
"This is simplicity at its best," says McNulty. "We wanted to offer our consumers a taste of the Great British summer and butter and mint delivers this perfectly, taking you on a trip back to lazy summer days dining out in the garden with family and friends – exactly the type of nostalgic experience Tyrrell's aims to bring to its consumers."