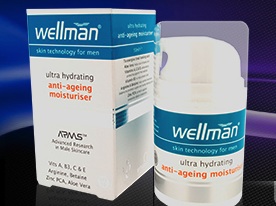 Leading VMS brand Vitabiotics is entering the lucrative male grooming category.
Its Wellman Skin Technology sub-brand sees the addition an Anti-Ageing Moisturiser, Under Eye Serum, Facial Scrub and Face Wash. The products employ a "powerful blend of nutrients and botanicals" and are positioned as 'functional skincare' products.
Vitabiotics marketing director Robert Taylor says the push into men's skincare products is "a natural move" for the supplements specialist because of its expertise in nutrients.
The new products will retail from from £12.95 to £24.95.