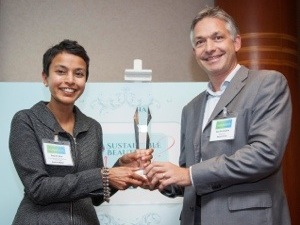 Weleda has won the Organic Monitor Sustainable Beauty Award for 'Sustainability Leadership'.
The judging panel recognised Weleda's continuing contribution to sustainability leadership and commended the company for its "value-creation business model", referring to the fact that the Weleda business model is based on creating economic value in a way that also creates value for society, by addressing its needs and challenges.
"This latest award is especially important to us because of our unique roots," commented Andreas Sommer, chief commercial officer of the Weleda Group. "Economic, social and environmental responsibility have been at the heart of our business since 1921, and we are constantly looking for new ways to improve what we do. To have our efforts recognised in this way has been tremendously rewarding."
Organic Monitor reports that it received an overwhelming response to the first-ever awards dedicated to sustainability in the beauty industry, with over 100 entries from Europe, the Americas, Asia, Australasia and Africa.
In total, there were 5 award categories, representing different aspects of sustainability (Green Formulations, Sustainable Packaging, Sustainable Ingredient, Sustainability Pioneer and Sustainability Leadership).
The award ceremony took place in Paris on 21 October at the same time as the European Sustainable Cosmetics Summit. The awards reception brought together over 160 executives from the global beauty industry to recognise achievements in sustainability.
Speaking at the awards reception in Paris, Amarjit Sahota (founder and president of Organic Monitor) explained: "As well as giving industry recognition, we hope the awards will inspire others in the beauty industry to take the green road."
The picture shows Weleda's Bas Schneiders receiving the award.