Daylesford has made its debut in the VMS sector with the introduction of its own extensive range of functional food-based supplements created by in-house nutritionist Rhaya Jordan in collaboration with founder Carole Bamford.
The 47-strong range of high-dose supplements has been developed based on 'the principle that the foundation for good health is a resilient immune system, restful sleep and a healthy balanced gut'.
Each formula has been positioned within one of ten categories that address common health concerns:
Daily Wellbeing to meet every day needs and fill gaps in the diet
Defend & Protect for a resilient immune system
Hush to improve sleep with natural solutions
Gut Balance to support gut microbiome, soothe digestion and improve nutrition
Focus & Energy to enhance clarity and performance while improving health
Mood & Mind to help brain function and provide support during times of stress and fatigue
Glow to help consumers look great from the inside out
Little Ones natural nutrition to encourage healthy development and help children grow strong bones
Men's Health – balanced formulas to support male health needs in later life
Women's Health – selected to support women's health through different stages of life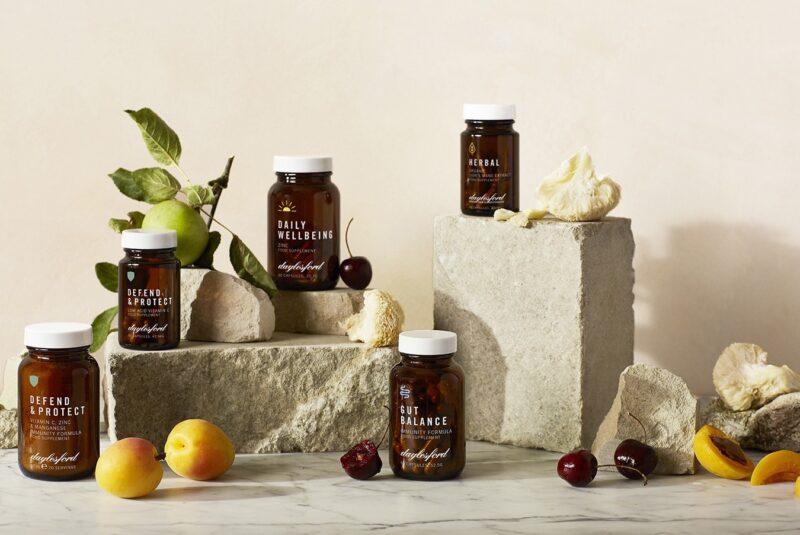 Explaining the reasons behind the launch, Jordan says: "Having practised as a nutritionist, naturopath and herbalist for 30 years, I identified the need to develop a new range of supplements that were innovative, interesting and potent. Whilst nothing can replace a balanced and varied diet, supplementing with high-dose concentrations of nutrients is another way to look after ourselves whilst we go about our busy lives. Clinically studied and formulated, every ingredient has been carefully selected for its bioavailability, meaning that it can be easily absorbed by the body. These are the gourmet equivalent of the supplements world; it is like consuming exceptional quality foods in doses that would be hard to ingest."
Bamford adds: "The importance of good nutrition has always been very important to me – our farming at Daylesford is based around the need to produce food that contains all the nourishment it should, without chemicals that are harmful for our bodies – but not everyone has access to wholesome fresh food every day. My hope in creating this range of supplements was to help bridge that gap. The range can act as support for our bodies, particularly during times of stress or ill health, and strengthen our resilience to the pressures and strains we face in our lives so that we feel at our best."
Packaged in recyclable glass bottles and made with whole foods sourced from soil and sea, the brand highlights that every item has been ethically processed to preserve beneficial properties and maximize their effectiveness.
To celebrate the launch, Daylesford is running a programme of events and workshops focusing on how to supplement a healthy lifestyle.