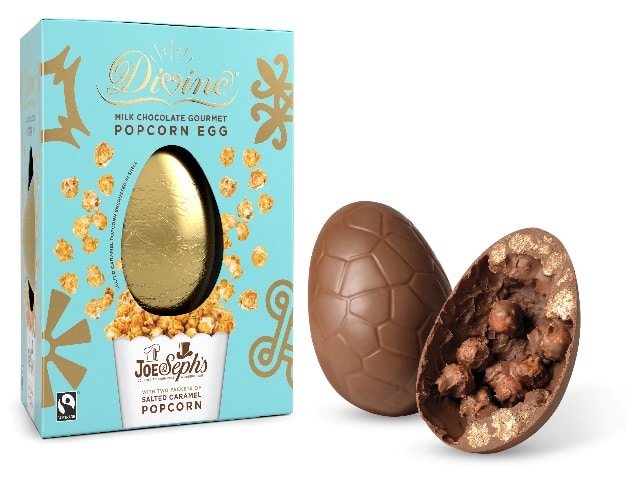 Fairtrade chocolate company Divine has unveiled its Easter collection, incorporating what it says is the UK's first popcorn egg, the result of a collaboration with gourmet popcorn brand Joe & Seph's.
The Divine and Joe & Seph's Milk Chocolate Gourmet Popcorn Egg combines milk chocolate with salted caramel popcorn embedded into a shell containing two snack-sized popcorn packets.
Also new for this year is the Divine Luxury 70% Dark Egg with Divine Chocolate Tasting Set, presenting a rich, thick chocolate shell along with a box of 12 mini bars in six different flavours.
The final new offer – the Shaun the Sheep Chocolate Lolly – is the only official Shaun the Sheep chocolate available in the UK. The smooth milk chocolate lolly has creamy white chocolate decoration.
To complete the collection are the perennial favourites: Divine Luxury Milk Chocolate Egg; Chocolate Flavoured Eggs; Chocolate Small Hollow Easter Eggs; and Chocolate Mini Eggs.
"There's a big opportunity to trade shoppers up to luxury products in Easter 2017, due to a longer shopping season and in line with the ongoing trend towards premium chocolate options," explains Charlotte Green, marketing director at Divine Chocolate. "The chocolate you buy for someone else says something about you, so shoppers are looking for high quality, elegant gifts that will impress and with ethical credentials to show they care too. We're confident Divine's Easter 2017 range will give shoppers the luxurious treats they can feel good about giving as well as providing delicious products for gifting and sharing occasions."
Divine is also launching a limited edition design this spring to celebrate women cocoa farmers. The chocolate bar wrapper will feature an illustration of a woman cocoa farmer and the stories of eight inspiring women, including Juliet and Fatima, the current president of Kuapa, now the largest cocoa growers' co-op in the world. The Gender Equality icon will also be included inside the wrapper.