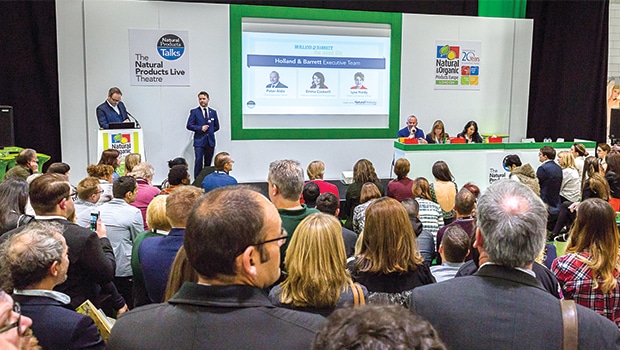 Holland & Barrett's top buyers have announced a shortlist of companies to participate in the Innovation Pitch session at this year's Natural & Organic Products Europe.
The six shortlisted exhibitors include The Blessed Seed, Turmerlicious, Bug Soother UK, DeVita Natural Skin Care, Just for Tummies, and Natural Nutrients UK.  Each will now be pitching to win a coveted listing with Holland & Barrett International – one of the largest health and wellness retailer in Europe.
The five minute pitches will be made to H&B judges at the Natural Products Talk Theatre stage (3-4pm on Monday 3 April).
"Once again, we're looking for the truly original and brilliant creations this industry has become known for, and with over 700 stores across the UK, we hope this could be a life-changing pitch for the right brand," says company CEO Peter Aldis,
Aldis will be joined on the judging panel by his senior buying team: Ian Mackie, head of category – food, Lucy Pottinger, head of category for ethical beauty and aromatherapy, and Lisa Sinclair, head of category for VMS.
To register in advance for a free trade pass for Natural & Organic Products Europe (saving £20 on the door) visit: https://registration.n200.com/survey/2y7wdujwsr0sr?actioncode=NPR22.