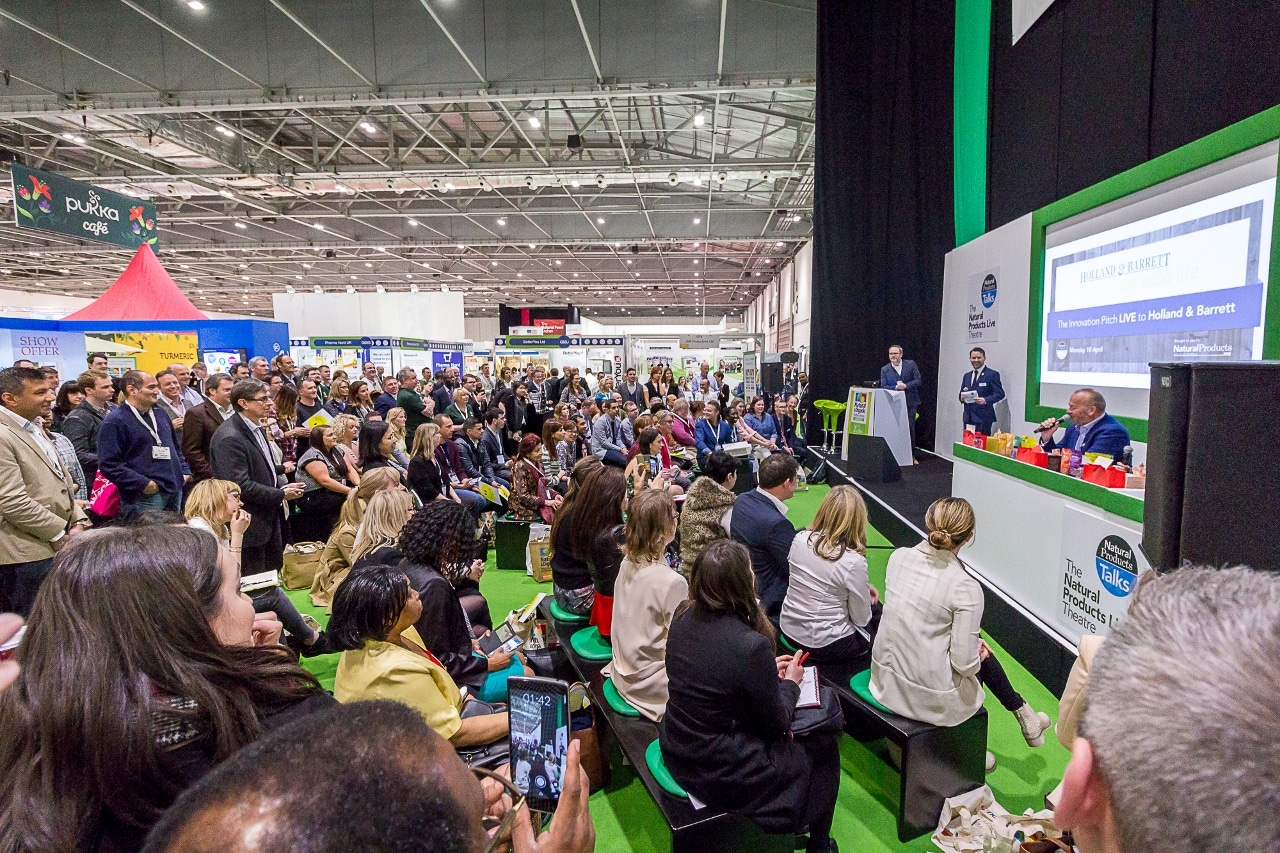 Holland & Barrett's 'Innovation Pitch Live' will be back at Natural & Organic Products Europe for a second year.
One of the show's most popular theatre sessions, it will give the over 700 exhibiting companies an opportunity to secure a listing with Holland & Barrett International.
Competing exhibitors (shortlisted before the show) will be invited to 'pitch' their new products or product innovations to Holland & Barrett's senior buying team, including CEO Peter Aldis, Ian Mackie, head of category – food, Lucy Pottinger, head of category for ethical beauty and aromatherapy, and Lisa Sinclair, head of category for VMS. They'll also have to win over an audience full of visiting buyers and retailers in the process, as their votes may help swing the judges' decision.
"As a business that has become known for bringing innovative trends to the high street, we were delighted to get the opportunity for another live pitch session at this year's Natural & Organic Products Europe," says Aldis.
"Last year gave us some great new talent, who now make up an important part of our business, so my expectations for this year are even higher. Once again, we're looking for the truly original and brilliant creations this industry has become known for, and with over 700 stores across the UK, we hope this could be a life-changing pitch for the right brand," he says.
The Innovation Pitch Live is open to all companies currently booked to exhibit at Natural & Organic Products Europe 2017 (across all areas: The Natural Food Show, Natural Health, Natural Living, and Natural Beauty & Spa).
"As a show, we've been supporting new start-ups in the health and wellbeing sector for over twenty years. We're delighted to be working closely with Holland & Barrett, once again, to offer our exhibitors an exclusive opportunity to fast track their way to meet their buyers and – potentially – win a listing," says Natural & Organic Products Europe's event director, Carol Dunning.
"Not only does the Innovation Pitch Live provide a compelling look at the buying process, but it also helps other suppliers to plan and prepare for their own important negotiations in the future.
"It was standing room only in the theatre last year – and our visitors got to see some amazing presentations of the latest new products. If anything, this year's competition is going to be even more intense – as more exhibitors are preparing to take part," she says.
Last year Mrs O's Fuss Free Mixes, Freshious Life & Beauty, and Ibiza Superfoods, were among the exhibitors presenting their 'life-changing pitches' to Holland & Barrett. Each is now working with the brand closely – adding their products to the retailer's range of 8,000+ SKUs with the potential to access thousands of customers a day.
For Verity Smith, founder of Ibiza Superfoods, it was an invaluable experience in brand promotion: "Being selected for the Holland & Barrett Innovator's Pitch was the highlight of Natural & Organic Products Europe 2016 for me. The exposure and buzz it created for Ibiza Superfoods at the show, and thereafter, has been of real value to the awareness of the brand, in terms of exciting listings and collaborations within the industry."
To enter the Innovation Pitch Live 2017, and check terms and conditions, please visit www.naturalproducts.co.uk/buyers-pitch/submission-form.
Buyers from other companies are also expected to attend the show, including those from Whole Foods Market UK, Waitrose, Boots, Superdrug, Aldi, Lidl, Amazon, Tesco, Ocado, Sainsbury's, John Lewis, Marks & Spencer, Fenwick, Planet Organic, As Natural Intended, Costco, Victoria Health, Elior, Sodexo, Infinity Foods, The Health Store, TK Maxx, Pret A Manger, Suma, Revital, Love Lula, BigGreenSmile, LloydsPharmacy, Compass Group, Carrefour, and Life Europe AB.
The show is on track to welcome over 10,000 attendees for 2017 – from big high street brands to smaller chains and independents.
"Natural & Organic Products Europe has all the variety and diversity that our team is looking for, all in one place. It's the best show of the year for discovering exciting new natural and organic products and suppliers," says Benjamin Woodgate, marketing director at Whole Foods Market UK.
Natural & Organic Products Europe returns to London ExCeL on 2-3 April 2017. The Holland & Barrett 'Innovation Pitch Live' will take place on 3 April at 3pm in the Natural Products Talks Theatre.
For more information and to register for a free ticket, please visit www.naturalproducts.co.uk and quote priority code NPR22