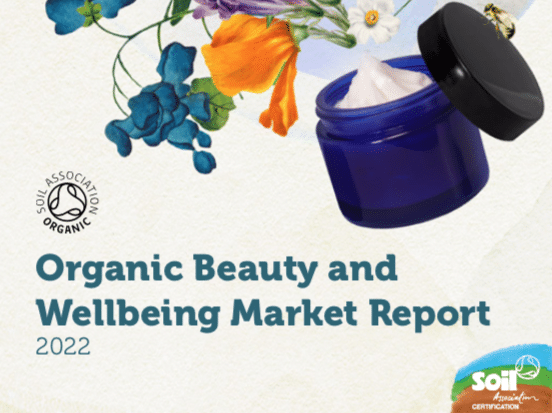 Rosie Greenaway casts her eye over the Organic Beauty & Wellbeing Market Report 2022
In the Organic Beauty & Wellbeing Market Report 2022 (OBWMR) Soil Association Certification highlights significant advancement of organic beauty, with 2021 sales up 15% to reach £138+ million. Over the past two years the market has seen 'stellar growth' of 30%, resulting in a monthly spend of £11 million on organic and natural beauty and wellbeing products, as consumers continue to prioritize environmental sustainability.
Much of this growth can be attributed to online sales – influenced by repeated lockdowns – with approximately 20% of total global beauty sales coming from e-commerce in 2021. For Neal's Yard Remedies, whose online sales 'surged' when its bricks and mortar stores were closed, online continues to play a key role today despite face-to-face retail having resumed, according to Anabel Kindersley, co-owner.
Key messages of the 2022 report, backed by market research:
Strong growth and innovation within certified organic beauty and wellbeing: while COVID-19 retail closures were problematic, many stores have 'flourished' thanks to a renewed consumer focus on holistic wellness. Consumer concerns such as repurposing food waste and shifting to refillable packaging are driving NPD; eco-conscious consumers are becoming more engaged with the impacts of plastic packaging and are developing their knowledge and understanding of beauty ingredients. With public focus on organic expanding into more areas of consumer life, demand has also increased for certified personal lubricants, oral hygiene, candles and cleaning products
Organic beauty and wellbeing as a solution to growing environmental concerns: 30% of consumers list loss of biodiversity as their prime environmental concern; 36% cite chemicals entering the environment as their biggest eco worry; and 53% are most worried about climate change. With certified products coming from organic agricultural systems – which use little to no pesticides, store carbon in organic soils and use less energy on-farm – organic addresses all three concerns, the report points out
Organic beauty and wellbeing as an answer to greenwashing: The SA's research reveals that with 48% of consumers now more engaged with the environment than they were prior to the pandemic, there is increased interest in brands which demonstrate transparency, along with heightened concerns around greenwashing. To address the prevalence of misleading green claims, and the scarce regulation around the term 'organic' within beauty, the SA points to COSMOS Organic certification as a guarantee of claims and as proof that sustainability, animal rights and labour have been considered throughout the supply chain. 42% of consumers who did not trust brands' honesty around environmental credentials said third party certification would provide reassurance and validation; proof that greenwashing is 'entering the public psyche'.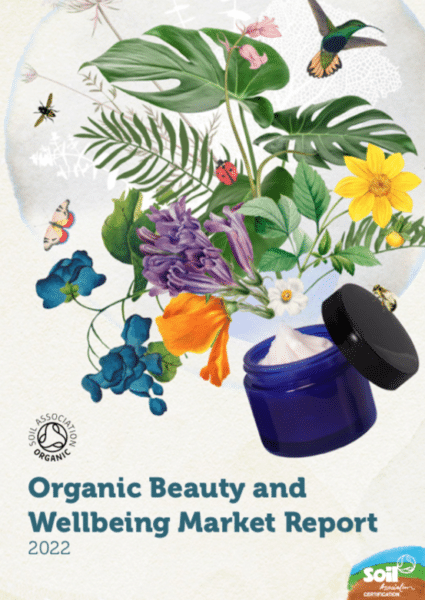 Clare McDermott, former business development director, Soil Association Certification, comments: "Sales of certified organic and natural beauty and wellbeing products have achieved nine years of double-digit growth … despite the challenges of Brexit and COVID-19. The COSMOS standard, of which Soil Association is a founding member, saw sales of organic and natural cosmetics grow by an impressive 32% last year. The leading global standard for organic and natural beauty now certifies over 50,000 products."
McDermott puts this 'remarkable growth' down to 'significant interest in health and wellness, coupled with the greater visibility of environmental issues such as climate change in the media – which has propelled the organic sector into the mainstream as consumers seek to align their purchasing decision with their principles'. During a digital presentation of the OBWMR (on McDermott's final day at the SA) she thanked panel moderator Lisa Oxenham, beauty and style director at Marie Claire, for her continued editorial promoting organic beauty in relation to sustainable living. "Consumers are increasingly informed and motivated about what is in their beauty products and we anticipate that these trends will continue into 2022 as the sector influences the wider beauty market and the availability of organic beauty and wellness products grows."
Key takeaways: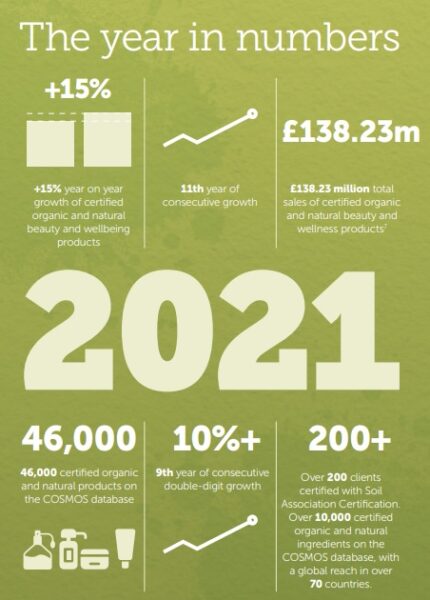 E-commerce has boosted sales for certified brands
52% of beauty customers don't trust brands' honesty about environmental impact
38% of shoppers boycotted brands due to ethical or sustainable concerns
50% of UK consumers who purchased beauty products in the last 12 months actively sought natural ingredients
42% see third-party certification as reassuring
Supply chain disruption on the world stage
Commenting on the impact of recent world events on the beauty ingredient supply chain, Thomas Kerfoot, commercial director of O&3, says that as a wholesaler of natural oils the current situation is concerning. Reflecting on the significance of Russia's invasion of Ukraine, Kerfoot explains that Ukraine is responsible for 46% of the world's sunflower seed oil – a key ingredient in many skincare products. With the conflict already disrupting the supply of sunflower oil, combined with Brexit and COVID – which caused many ingredient suppliers in 'remote parts of the world' to cease production and trading – these pressures are 'only pushed onto other commodities … as people panic and look for alternatives in their formulations'.
"It worries me. I'm not seeing any solutions to this problem. Unfortunately, [with] inflation … we're not going to see ingredients get cheaper. I think we all have to accept that this is going to be the case. As a supplier it's not a situation I like to be in, but … there is only so much supply."
Soil Association reveals that 88% of its certified brands expect supply chain disruption to be 'a top issue in 2022', with export/import challenges and inflation also predicted to hit businesses over the next 12 months.