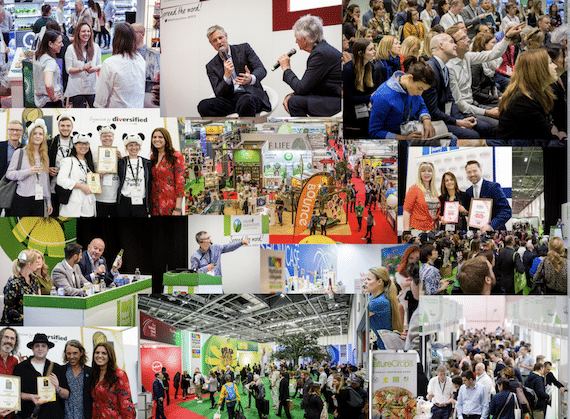 Natural & Organic Products Europe (NPE) is doubling-down on innovation this year, confirming that two of the UK's biggest retailers – Holland & Barrett (back for the fourth year) and Sainsbury's (new for 2019) – will each host live 'innovation pitching' sessions at the London ExCeL show on Monday 8 April.
The show organizer calls it 'a win-win for everyone involved'. Visiting trade buyers and members of the press get an entertaining preview of what's new and launching onto the market, while the 12 participating natural and organic brands (see the newly-announced shortlists below) get the exciting opportunity to introduce their latest NPD to senior buying teams and, potentially, earn themselves a listing.
To succeed, all they have to do now is wow the judges with a killer innovation pitch in five minutes or less. They'll also have to win over an audience full of visiting buyers and retailers in the process, as their votes may help swing the decision.
NPE's event director Carol Dunning comments: "We're delighted to be working closely with Holland & Barrett at the show once again. It was standing room only in the Natural Products Talks Theatre last year – and our visitors got to see some amazing presentations of the latest new products.
These two titans of retail play a vital role in bringing the best new brands to consumers
"Thanks to the long-running success and huge popularity of the H&B innovation pitch, we're thrilled to welcome Sainsbury's to the show's line-up for the first time. These two titans of retail play a vital role in bringing the best new brands to consumers and they'll find plenty of fantastic new natural and organic innovations for their customers at the show this year."
First up is Sainsbury's new Beauty and Wellbeing Innovation Pitch, which will kick off the show's second day in the Natural Beauty Talks Theatre (10.30am on 8 April). Head of beauty, Rebecca Wicks will lead the judging panel for Sainsbury's, alongside Milena Lazarevska (future brands origination and investment), wellness buyer James Kerr, and senior beauty buyer Siobhan McTernan.
"Our customers are increasingly asking us for natural brands in Beauty and Wellness, and we are really excited to participate in the pitch [at NPE] to find the best new natural brands out there," says Wicks.
The shortlisted companies (and products) – as chosen by Sainsbury's – include:
Naturally Tribal Skincare: ancient remedies for today's families
Pharmavita: aronia X – aronia antioxidant goodness
Presidio Brands: Every Man Jack
SkinGenius Skincare: get rid of acne and spots naturally
SNOOOZE – Natural Sleep Drink (by Ringtons)
UpCircle: pioneering regenerative skincare
Back for its fourth year, H&B's Pitch to the Buyer session is a popular and fun finale to an action-packed two days of business. Head to the show's Natural Talks Theatre from 3pm to see the H&B team make their top picks: group trading director Hilary Leam; Lisa Sinclair, head of category for vitamins & supplements; Ian Chant, head of food; Jo Cooke, head of beauty; and Jess Keeble, senior category manager for sports.
The shortlisted companies (and products) – as chosen by H&B's buyers – include:
Just Wholefoods: Organic Sunflower Mince
Luxury Home Spa Company: Shobu, a bath bomb for the shower
Jack & Chill: jackfruit-based products (by Nikasu Foods)
Organic Sports Nutrition: Nootropics range, Organic Boost & Organic Calm
Pharmavita: EatEnjoy for the gluten or dairy intolerant consumer
Scence: all-natural skincare in fully compostable packaging
"Natural & Organic Products Europe has always been one of our most important shows," says Sinclair, who will be returning for her third term as an 'innovation pitch' judge (she's also been visiting the event for years). "It's our chance to meet some of the best innovators in the industry, and to really understand the research behind each ingredient."
Over 10,000 attendees are expected to visit this year's event, including show regulars like: Amazon, Boots, Aldi, Lidl, M&S, Waitrose, Ocado, Tesco, Morrisons, Debenhams, House of Fraser, Superdrug, Nisa, TK Maxx, John Lewis, Whole Foods Market, Infinity Foods, Planet Organic, NBTY Europe, CLF Distribution, The Health Store, Suma, Revital, Costco Wholesale, BigGreenSmile, Health Stores Wholesale, Booths, Abel & Cole, As Nature Intended, Feelunique, Lloyds Pharmacy, John Bell & Croyden, Day Lewis Group, Asda Pharmacy, Victoria Health, Fenwick, Lovelula, Neals Yard Remedies, Bodykind, Sodexo, Brakes, Gateretail, Eurostar, The Grocery, Whitbread, Oxfam, Life Europe, REWE, Allergikost, Sunkost Kjede, Monoprix, Bio c' Bon, Rawrganic, and Dagsmeja.