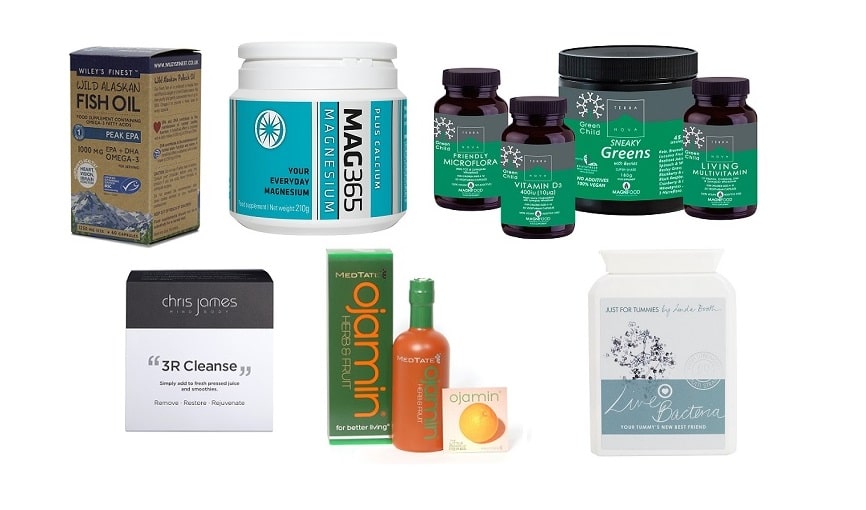 VMS & Nutrition, Natural Health & Beauty
With the full exhibitor line up now almost confirmed, camexpo – the UK's leading complementary, natural and integrative health show and conference for practitioners, therapists, CAM students and healthcare professionals – has released its exhibitor show highlights for 2015.
Taking place on the weekend of 26-27 September at Olympia, London, it will be featuring over 200 exhibiting brands – showcasing everything from VMS and natural beauty to essential clinical services and supplies. The event provides an unrivalled opportunity for thousands of visitors and press representatives to source hundreds of new products and services.
The following is just a taste of what's new at camexpo 2015:
VMS & Nutrition
Chris James Mind Body is launching 3R – a condensed three days cleanse that can be added to juices and smoothies. 3R targets the gut, and is a nutritional powerhouse of antioxidants, protein, and phytosterols; including organic pumpkin, golden flax chia seeds and turmeric. It can be used as an everyday fibre (stand IZ-L).
This year G & G Vitamin Centre is concentrating on natural products and will be promoting a number of new supplements, such as new 4mg New-Zealand Astaxanthin, Vegetarian D3, and Natural Beta-carotene made from Algae. Their Organic Essential Food range is also available to sample (stand 1810).
Just For Tummies by Linda Booth is a new range of digestive health supplements. It includes live bacteria, digestive enzymes, omega 3, garlic, milk thistle, charcoal, fibre and a specially-blended TummyTea (stand IZ-N).
Leading natural supplement brand Natures Plus UK is introducing their Source of Life Garden range, including the new Men's Multi, Women's Multi and Prenatal Multi. They are certified organic, vegan, wholefood grown, yeast-free and all-natural (stand 1310).
First time exhibitor Pillar Healthcare is showcasing pre-Conceive, a nutritional supplement designed to support both natural conception and assisted reproductive procedures. In a landmark study, pre-Conceive was clinically studied to assess its impact on both male and female fertility parameters. The results were presented to the Association of Clinical Embryologists this January. In men, pre-Conceive showed improvements in sperm count, motility and the DNA integrity of the sperm cell. In women, pre-Conceive showed improvements in the hormonal profile, including improvements in oestrogen, progesterone, FSH, LH and most notably AMH (stand 2122).
Springfield Nutraceuticals is showcasing the new CeQure – natural Vitamin C with lipid metabolites, designed for better absorption, activity and retention. Springfield Nutraceuticals is also showing: MenaQ7 Forte – new research shows that menaquinone-7 supplementation improves arterial stiffness in healthy postmenopausal women, and Collasense, where new research shows effectiveness and tolerability of UC-II supplementation in improving functionality of the knee joint (stand 1723).
Rio Trading Company (Health) is showcasing a range of new NutraMedix tinctures, including Sealantro – a proprietary blend of Cilantro leaf extract (Coriandrum sativum), Chlorella (Chlorella vulgaris), and Seaweed (Chondracanthus chamissoi). There are also new products in the Epigenar range, which are designed to work alongside the NutraMedix products in supporting the body's immune system (stand 1208).
Revive Active Products is promoting Joint Complex 7 day pack. Launched this summer, Joint Complex 7 day pack takes a multifunctional approach to promoting cartilage repair, reducing inflammation, and restoring joint function. It contains 1000 mgs of glucosamine, 2000 mgs of methyl sulfonyl methane (MSM), vitamin C, copper and manganese, which is designed to improve connective tissue health (stand 2024).
Kinetic Natural Products Distributor is showcasing the new Terranova Green Child range. Designed for children it is synergistically enhanced with Magnifood, to support the absorption, bioavailability, utilisation and function of the product's vitamins, minerals and other nutrients. Kinetic are also bringing several new health supplements and superfood innovations to camexpo including; Nature's Answer – Critical Turmeric-3, Amazing Grass Tangerine Immunity Green Superfood, Barlean's Omega Swirl, and Ener-C Pineapple Coconut Effervescent Vitamin C (stand 1210).
Austrian company SCiOTEC specialises in the manufacture of premium functional foods for people suffering from food intolerances (such as histamine, lactose and fructose intolerance) Products are non-medicinal and are based on patented enzyme technology (stand 2113).
Wiley's Finest UK is promoting Peak EPA (60 Capsules), which is clinically proven to increase Omega-3 levels in human muscle tissue and red blood cells. This soft fish oil gel contains 750mg EPA and 250mg DHA for a total of 1000mg of DHA and EPA, and is available in a one month's supply (stand 1823)
Synergy Natural Products – The LP Partnership is introducing ProArgi-9+, which is described in the US Physician's Desk Reference as "the highest quality L-Arginine supplement in the world." It was formulated with leading cardiovascular specialists following Nobel Medicine Prize winning research (stand 2121).
The new online health shop and UK distributor pureraw products/d4h seminars is showcasing Skinny & Co Coconut Oil (100% raw, 100% pure, alkaline coconut oil), PurXpressions range of Liposomal Supplements, and VitaGreen Chlorella and Omega-3 (stand 1524).
Nutrigold is showcasing Ribo-glo, a natural orange flavoured powder that it is designed to support ATP production. Nutrigold are also unveiling their upgraded, IEB accredited, Home Study Nutrition & Health course, allowing students to become a registered nutritional advisor without leaving the house (stand 1308).
Symprove is offering practitioners a new Symprove patient support information pack at this year's camexpo. Symprove is a liquid-based formulation containing live and active bacteria, designed to work for patients with IBS and IBD. A recent, double-blind, placebo controlled study carried out by Kings College London concluded that after just 4 weeks of taking Symprove, 76% of patients had a reduction in inflammation (assessed by faecal calprotectin levels) (stand 1822).
The Really Healthy Company, suppliers of a specialist range of therapeutic food supplements, is showcasing their natural immunomodulators, detoxifiers, antioxidants, anti-inflammatories and green superfoods. Products include: Biobran MGN-3, the full range of Premier Research Labs' products, Medpro Prostasol, Imupros, IC3 and Prostectan. Practitioner discounts are available on request (stand 1620).
Ojamin: Herb & Fruit is introducing a traditional herbal remedy from Asia to the UK. Consisting of 15 herbs in spring water, Ojamin is a fully natural health supplement, which contains no artificial ingredients. It aims to introduce those nutrients which are essential but may be lacking in western diets. Made in England, developed in Switzerland (stand 2023).
Mag 365 – ITL Health Limited is promoting Mag365 Plus Calcium Superior Magnesium. This Calcium formulation dietary food supplement, formulated with 3 parts magnesium to 2 parts calcium, is optimised for bone health and high performance athleticism. It contains calcium, potassium, boron, vitamin C, D3, and K2. ITL Health is also showing Mag365 Kids (stand 1623a).
TEATOX is showcasing Skinny Detox 14 Days Plan – a treatment of morning and evening blends made using the natural power of selected organic ingredients full of cleansing herbs and detoxifying properties. The plan is designed to support with getting in shape, detoxing and getting rid of unwanted kilos (stand 1624).
Natural Health & Beauty
YOGI Tea, the original organic and ayurvedic tea brand, is launching Choco Mint to the UK, which picked up the 'Best New Product' Award at BIOFACH earlier this year. Also showing: a new Christmas Tea blend (stand 2116).
Five Port Marketing is introducing the new Elli range of organic baby products grown and crafted in Africa. Made using certified organic ingredients that embrace the energy and value of the aroma, it is designed to leave baby's skin feeling rejuvenated and mildly fragranced. Products include sleep balm, bum care and more (stand 1Z-F).
Rio Trading Company (Health) is introducing new organic skincare additions in the Rio Rosa Mosqueta range, including creamy body butter, nourishing hand cream, rejuvenating intensive night treatment and a new, improved formula of its day and night cream (stand 1208).
New exhibitor Crio Brü UK is showcasing 100% pure, premium, roasted and ground cacao beans, that can be brewed just like coffee in a cafetière/coffee maker. Crio Brü naturally contains theobromine, considered to be a gentle, longer lasting, non-addictive stimulant. Each variety has a naturally different flavour profile derived from the origin of the bean (stand 2204).
Zephorium Soul Tonics is launching its new home fragrance collection at camexpo. The range includes natural and organic positive affirmation candles and essential oil blends. The eight scents are packaged in colourful glass bottles that are designed to link to the body's energy (chakra) system (stand 1510).
Bathing Beauty is introducing the therapist–sized Jones The Bones Muscle and Joint Oil. Created by founder and Osteopath George Jones, from pure, cold pressed, raw, blended plant oils, it is vegan and cruelty free (stand 2117).
INGENEIUS – Nutritional Genomics is introducing its new Basic Blueprint Report. It provides analyses of clients' genetic susceptibilities and strengths relating to immunity, detoxification, methylation, sport, metabolism, psychology and ageing, and is an accessible introduction to their more detailed, specialist reports (stand IZ-P)
Koko Dairy Free is promoting its new Koko Dairy Free vegetable spread, containing 26% coconut oil, which can be used instead of butter for lower saturates and more MCFAs. Also new for 2015 is Koko Cuisine Virgin Coconut Oil, which is additive free and popular in cooking or as a supplement (stand 2004).
The Organic Protein Company is showcasing Organic Whey Protein, made with organic milk from grass fed cows, without the use of any additives. With a neutral flavour and creamy texture, it's a versatile ingredient in smoothies and home baking (stand 1924).
The JASON gluten-free facial crème, showcased by Kinetic Natural Products Distributor, aims to deliver deep, long-lasting moisturisation for smooth, revitalised skin. This product is the latest UK launch from the JASON gluten-free range, which is certified gluten-free by the GFCO (stand 1210).
Mahi Naturals, the UK distributor for Hope's Relief Skincare is offering visitors exclusive offers (and free skincare advice) on a range of award winning natural skincare products for eczema, psoriasis, dermatitis and dry itchy skin conditions. The range includes an intensive dry skin rescue cream, shampoo, conditioner, soap-free cleansing bar, moisturising lotion, goat's milk body wash and soap (stand 1830).
Yogandha is promoting its Mind Body Therapy range, a family of fragrant oils that heighten wellbeing, nourishing mind, body and spirit. The 100% natural vegan products include rollerballs and body oil variants (stand IZ-H).
NANNYcare is promoting formulas that are made from whole goat milk, not protein fractions like most other formulas and are significantly less processed. Goat milk is finally recognised as a base in infant and follow on formula as a result of new data supplied by NANNYcare to the European Food Safety Authority, which included two double-blind trials using NANNYcare (stand 2120).
Pukka Herbs is promoting its remedies range, including the wonder herb turmeric. Originated in the same organic way that is evident in all their herbal teas and remedies – with love and passion for people, plants and the planet (stand 1412).
camexpo will take place at Olympia, London, on 26-27 September 2015. Retailers can book a free place by visiting www.camexpo.co.uk/register-to-visit-camexpo-2015 and using priority code CMXP811.