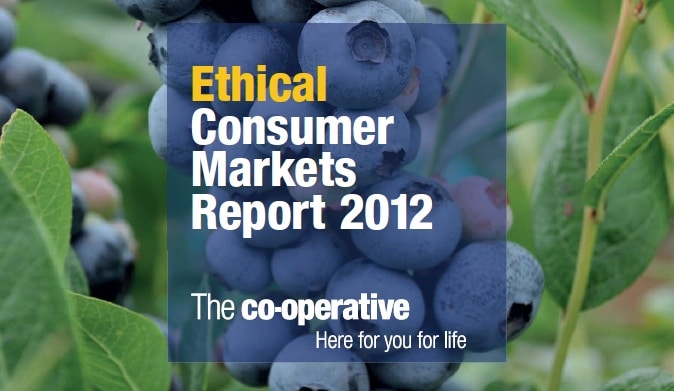 Ethical spending hit an all time high of £47 billion in 2011 according to the latest survey of the sector by the Co-operative Group.
But while The Ethical Consumer Markets Report 2012 shows ethical consumerism gaining momentum on several fronts, it confirms that organic – the single biggest segment of the ethical food and drink market – has yet to return to growth.
The Co-op survey takes the wide view of the ethical sector. As well as ethical food and drink it gather sales data for green home, cco-travel and transport (everything from responsible tour operators to bicycles), personal products and community – the latter including £1.62 billion of local shopping. The survey also includes the 'value' of boycotts, where shoppers consciously switch brands to avoid supporting unethical practices.
Amongst the biggest growth categories are sustainable fish up 323 per cent from £69m to £292m, Fairtrade which has increased 176 per cent from £458m to £1,262m and free range eggs sales up 78 per cent from £444m to £792m. But organic has been less recession resistant. Although sales of organic produce have "stabilized" at £1.5bn, the are down from a high of £1.9bn in 2008.
Talking to The Independent about the decline in organic sales, Jim Twine, business development director at the Soil Association, said: "The overriding reason has been lack of availability. There was a huge overreaction by some of the retailers, and a colossal loss of shelf space. It would also be naive to say that the largest recession in living memory hasn't had an impact."
Barry Clavin, sustainability reporting manager at The Co-operative, welcomed the report's overall findings. "The report shows that intervention by enlightened businesses, together with regulatory intervention, is driving ethical sales growth. Ethical consumers are still a vitally important agent of change; however, the actions of progressive business are now a significant contributor to sales growth.
"At the same time, let's not lose sight of the fact that ethical sales remain a small proportion of total sales. Ultimately, over and above the efforts of responsible business and ethical consumers, sustainable solutions require a government committed to long term intervention."