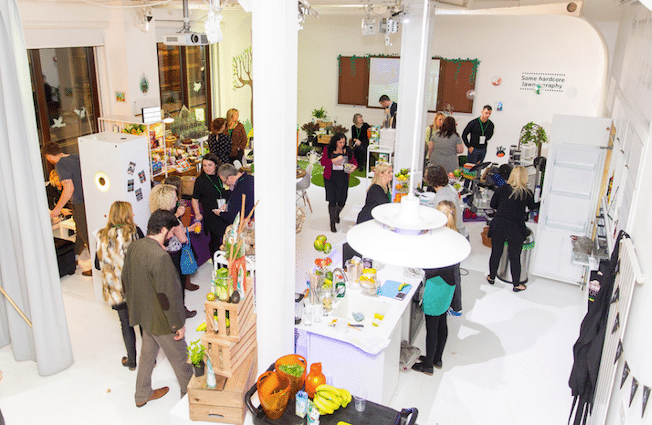 Holland & Barrett will continue to focus on revamping its UK store estate in 2016, pulling back on the aggressive store opening programme of recent years, says its chief commercial officer Lysa Hardy in this exclusive interview.
NPN caught up with Hardy at the retailer's recent 'House of Health' event in central London. Held this year at uber-cool venue Icetank, the annual showcase is where Holland & Barrett presents its latest products and brand additions to the media. The latest iteration took the form (the clue was in the name) of a themed house, complete with kitchen, living spaces, bedroom, children's play area and a home gym – each zone providing a stage for relevant product ranges, or a cook-in, or make-up demo.
NPN: What is Holland & Barrett aiming to get out of today's event?
Lysa Hardy: "Holland & Barrett has been going for a very long time, and there are very high awareness levels. But a lot of people know us as a vitamin shop primarily, and the wellbeing positioning we now have means taking a more holistic approach to how we communicate with our customers – and the media, bloggers and opinion formers. So the challenge today is to get people to reappraise what Holland & Barrett is about, and break down the idea of us being a being just a dusty vitamin seller.
NPN: Do you think that image still persists?
LG: A little bit, but much less so. We've worked reallyhard over the last few years, refitting stores, changing their appearance, changing our advertising. All these things have helped bring lots of new customers into store. So we're shaking off the old image – but we're keeping working at it.
You'll see here today some of the things we're doing to appeal more to the mass market, and younger health conscious shoppers. For example, we've got Joe Wicks, aka The Body Coach, doing some exciting and quirky cookery demos. He's got an amazing following on Instagram (537k at the last count) and what he's doing is exciting the younger generation about cooking from scratch – using lots of the amazing healthy ingredients we sell. We're also working with the singer and I'm a Celebrity star Jake Quickenden, as an ambassador for our sports nutrition, helping to make that category inspiring and accessible. And the point here is that the people who follow Joe and Jake might not be Holland & Barrett customers.
So, this is all part of showing that we are a modern brand and the destination retailer for health and wellbeing in the UK.
NPN: So, is all this helping you reach new demographics?
LG: We've always had a younger customer base than I think people realise. But I think we're seeing a more mainstream customer now – that's probably the big difference. When I joined the business three years ago I got the sense that Holland & Barrett was seen as somewhere for people who were a bit alternative, or already very interested in their health. What we're now getting is the mum who is thinking about the health of her family. And instead of frantically researching on her own, she's coming in and getting advice from our qualified store staff – because that's one of our key strengths now.
NPN: How effective has the 'ask us' campaign been with that?
LH: We're trying to build that into a brand promise. Because it's difficult for people, there's so much information out there. A lot of it is conflicting too – you're looking at different headlines every day. It can be overwhelming. So we think it's really important that our staff understand, and talk to customers about their particular situation.
NPN: What's the priority at H&B currently, is it now store refurbishments?
LH: We are definitely accelerating with store refurbishments, and we're trying where we can to relocate to bigger locations. So this year we've slowed down on new store openings, and have been concentrating a lot more on relocations. A lot of our stores are in secondaries. What we've seen is that by moving to central locations, and bigger locations, we can sustain growth.
NPN: Holland & Barrett has tried out a number of concept stores in recent years, and most recently you launched the Holland & Barrett More format. What's working best for you and what can we expect more of in the future?
LH: Basically, we're focusing on two of the models that we've successfully evolved. So, we've got Holland & Barrett More in Chester, and we have plans for half a dozen more of them.
NPN: So, not the 50 H&B More store openings talked about at the beginning of the year?
LH: We'd love to open more, the challenge is finding the right location.
Then we have the new fit outs. So we've got Oxford Street in the new design theme, which is quite pared back, with a lot of white space contrasted with dark wood fixtures. You'll see that in the Brighton store, and gradually all our new stores and refurbished stores will be in that style.
NPN: What sort of response have you had to the new-look stores?
LH: Really positive. We've seeing a sales uplift, and we're seeing longer dwell times. And the exit surveys we've been doing show that customers find them much more modern, and much more enjoyable to spend time in. They're also much more interactive. We've put in things in like shake a whey stations, tea bars, and oil and vinegar features. Customers really enjoy getting the hands on experience with products
NPN: Will the new stores be easier to shop and navigate?
LH: Yes, one of our biggest challenges is that because we are so highly regulated, particularly on the vitamin side, we're restricted in what we can say. So, while we understand the need for regulation, and we're compliant in every regard, it can be difficult for customers to find what they're looking for. It's why it's so important for our staff to understand the products and be able to explain them. But we're also trying to make it easier for customers by, for example, putting relevant products together.
What we found when we looked at this a couple of years ago, was that shoppers were then quite mission focused. They were coming in for a particular thing. They'd come in, find it, and leave. Now we're seeing a much broader basket shop. Our customers are browsing more in the shops and buying adjacent products – and our campaigns are really helping with that. We did one earlier in the year on coconut. It talked about the benefits of cooking with it, about coconut products for your hair, coconut capsules – because they're a good fat, and so on. And what we've seen is that if you talk about generic benefits, you'll see people coming in for a food product and then moving onto a beauty range.
"… shoppers were quite mission focused. They were coming in for a particular thing. They'd come in, find it, and leave. Now we're seeing a much broader basket shop"
NPN: Given what you've said about regulation, how much health or life-stage signposting can do in store?
LH: It's a fine balance sometimes. We don't try and push the boundaries. But where we can, we'll try to group things logically, or we'll try to put more explanation around products – or we might talk about historical use, without making any claims. We're also trying to make shopping with us a more intuitive experience.
NPN: Who do you see as your main competitors on the high street?
LH: That's good question because actually we look at different retail operators in a range of areas. simply because we've got quite an unusual mix of products. So I suppose we look at Boots as our main competitor in supplements. But of course the grocers sell large quantity of supplements, so we look at them too. And Superdrug, who are active in this area. And, of course, the independents.
For beauty I'd say closer competitors are retailers like the Body Shop and Lush because we're about natural beauty and Boots feels a very different kind of space to us. For sports, the competition is mainly online. For food we still are the national destination retailer for vegetarians and vegans. This year there's been a lot of focus on free-from. We're seeing more vegetarians, more flexitarianism. And, yes, the grocers are very active here but we think we can bring a broader range to the market and offer a better shopping experience.
NPN: The new More store in Chester has a big focus on free-from. Is this where you are going with the rest of your stores?
Fortunately with Chester we have plenty of space. The challenge with the category as it takes off is how do we get it into the other stores. One thing we've started doing already is taking out the jelly beans – which at the end of the day are sweets, even if they're additive free – and replacing them with a free-from aisle in as many stores as we can. We've got the online offer as well, so shoppers can go online for a wider choice.
We are also introducing click and collect, which we have been piloting within the M25, and which we'll be rolling out nationally after Christmas. The benefits seem obvious to me. Around 90% of the population of the UK are 10 minutes away from a Holland & Barrett. Online sales are currently around 8% of total sales and they're rising.
NPN: Are there any stand out categories for you at the moment?
LH: Beauty is really exciting and we've got some lovely new ranges. At Chester we've got lots of hands-on things going on. So, for example, you can make your own body scrub at the Beauty Kitchen. And it's great to work with some exciting new brands and give them a chance to get their products into store – lots of them are here today. There are some great stories behind lots of these brands. It's often very personal too. A typical story for someone starting a food brand might be that they have someone in their family who has an allergy, and they've gone off and created something for themselves to solve that problem. We're often able to help them bring those products to market. It's great for them and it's great for the consumer because they get such a deep range now.
NPN: Supplement sales have been flat generally, how are they holding up at H&B?
LH: Well, there's still a lot of innovation going on, and we've going round the trade shows both here and around the world, actively searching out really innovative products. So we're bringing some of that innovation – whether that's through ingredients, or even packaging – into store and shaking things up a bit.
"customers are now repeat purchasing and buying into a wider healthy lifestyle. That's where we the think biggest opportunity lies, and we want to give those customers a really great shopping experience"
NPN: What are trading conditions like more generally, and how do you see prospects for Holland & Barrett in the coming few years?
LH: It's tough. But there are two big things really going in our favour. People are becoming more and more proactive about health – they understand they can do things themselves to improve their health and manage conditions, which is great. So being known as the number one health retailer on the high street means we are a destination. The other big opportunity, is getting people to think more around their lifestyle – so, bringing bring them in store through other routes. And that's what's been happening with beauty, which has been our fastest growing category in the last few years.
More and more women, in particular, are questioning what they're putting on their bodies. And then there is just the whole improvement in natural products. So pushing things like coconut and snail gel, as we've done in recent campaigns, catches people's imagination and gets them to come in. But what we found is that customers are now repeat purchasing and buying into a wider healthy lifestyle. That's where we the think biggest opportunity lies, and we want to give those customers a really great shopping experience.