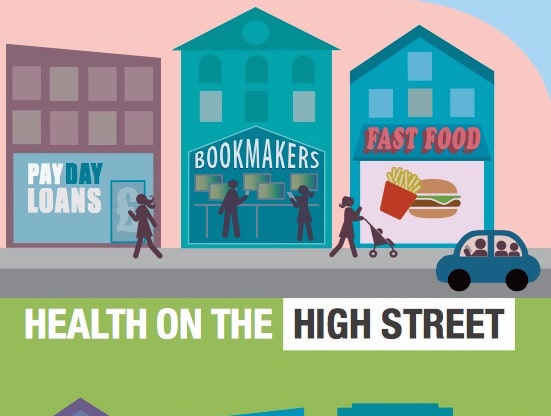 The health food trade has reacted with dismay to a new report that sets out to identify businesses and services that most contribute to the health and wellbeing of local communities.
Health on the High Street – launched last week by the Royal Society for Public Health – identifies fast food outlets, bookmakers, pay day loan shops and tanning salons as among those businesses seen to undermine health and wellbeing; while gyms and health clubs, pharmacies, museums, pubs and opticians are seen as contributing positively.
The report omits health food stores entirely from its 'Richter scale' of health and wellbeing scoring.
Explaining why it had excluded health stores, an RSPH spokesperson told NPN: "We did consider health food stores but were unable to include everything". She added that the selection criteria had been "informed by public opinion, overseen by an expert steering group".
Ina statement, the National Association of Health Stores (NAHS) said: "despite being on the high street for 120 years, health food stores still aren't being taken seriously by mainstream health professions". The report is evidence, says the NAHS, of "disjointed government polices on the state of our high streets and the health of the UK population".
Britain's leading health food chain, Holland & Barrett, said it was "surprised" that health food stores had been left off the high street propositions considered health promoting, especially since they meet the RSPH's stated criteria – encouragement of healthy lifestyle choices, increasing social interaction, access to health advice and promoting mental wellbeing.
Lysa Hardy, NBTY group marketing director said: "There are many thousands of health food outlets to be found across Britain's high streets, and together we play a key role in helping communities lead healthier lives through the products we sell, the nutritional education we deliver and the changes we can help people make to the way they live their lives.  We propose to contact the RSPH to see whether they might adjust their list of healthy high street propositions to include health food outlets, so future editions of their index can be better representative of the role we play and the benefits we provide."
Leading natural health brands have also expressed frustration at the RSPH report. Viridian Nutrition founder, Cheryl Thallon, told NPN: "It is astounding and incomprehensible that specialist health stores, who contribute so much to the health of the nation, are ignored in this report. However the report does call for legislation to limit the percentage of fast food outlets on each High Street, and for reduced Business Rates for 'healthy' businesses, which is something we at Viridian have been pressing for this past decade."
"It is astounding and incomprehensible that specialist health stores, who contribute so much to the health of the nation, are ignored in this report"
Commenting on how to improve prospects for those 'healthy' business, the NAHS added: "Health stores have a valuable role to play, not only in the health of our high streets – but the health of the nation. Yet currently most health stores pay a higher rent premium than large chains (such as betting shops) to be in a high street location. At the same time they are being disadvantaged compared to charity stores – who receive tax breaks, and some of whom have taken to selling a organic and natural products."