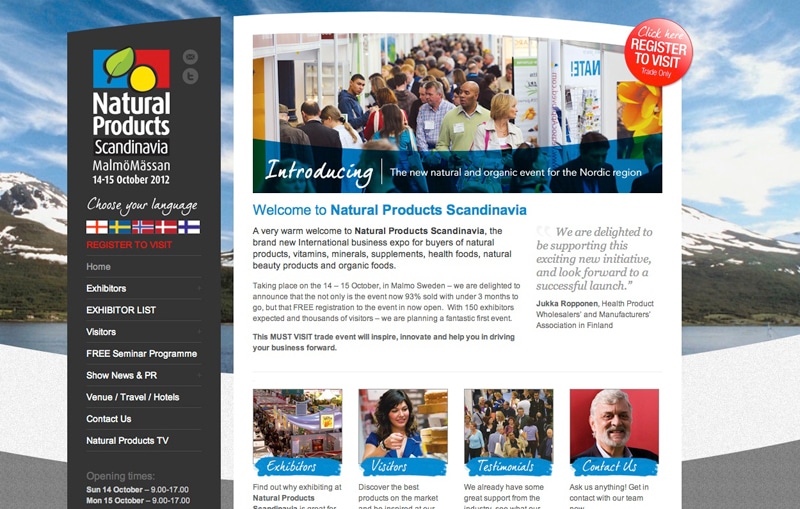 Next month (14-15 October) thousands of natural products professionals from across the Scandinavia will converge on the Malmö in Sweden for the inaugural Natural Products Scandinavia.
The event – the first of its kind in the region – will see over 150 exhibitors showing the very best in healthy living, nutrition and self care products. It will also feature a heavyweight education programme with top speakers from across Europe.
Scandinavia is a great starting point for UK companies getting into exports for the first time – and for existing exporters looking to expand their horizons. Different countries will suit some companies more than others, but a couple of factors hold true for the the whole region. First, the commitment to 'selfcare' and natural health is virtually unrivalled anywhere in the world. Second, distinctively British natural and organic brands have broad appeal to Scanindavia consumers – that's why you'll see plenty of familiar British health brands on the shelves in leading Scandinavian retailers like Life, Nature and Matas.
Here, some of the British companies exhibiting at the first Natural Products Scandinavia talk about the market – and what they'll be hoping to get from the show.
Kim Barani, Kinetic
"Kinetic brands have been expanding very quickly overseas in the last three or four years. So this show really has come at the right time for us – it's good to have professional platform to launch new ranges into Scandinavia. It's a mature market with knowledgeable consumers, which is perfect for Kinetic. Jason is already well established and a market leader in Norway. But we have a depth of unique, sought-after ranges – such as Terranova and Amazing Grass. These ranges are seen as on trend and cool – so there's real growth potential in such a progressive market."
Charles Redfern, Organico and fish4ever
"We have some existing business in Scandinavia – and we're keen to develop it further. For us, what's absolutely essential with exports is to get inside the mind of the market you're entering. We want to seriously establish our brands – so we'll be looking to find a serious partner to help us do that. It means being really proactive, developing websites, doing domestic trade shows and engaging with the local community. We've just re-designed our labelling for exports. That's fundamentally about showing a willingness to give people the products they want. I'm really looking forward to the show, and getting the chance to see some stores too."
Tim Gaunt, Natures Aid
"It's simple for us – Scandinavia is a target market. We see Scandinavians as being like-minded people with lots of shared ideas and connections ­– it's a natural market for us. The show offers a great opportunity to get into those markets, particularly for us as there isn't so much of a supplement manufacturing tradition in the region. We'll be taking a good depth of range with us, including some THR products to demonstrate the high standards we manufacture to. Our key aim will be to meet new distributors – and open some new  doors."
Keith Garden, Only Natural (Higher Living and Dr Stuarts)
"Scandinavia is a key target market for us. We're already selling into Sweden, Denmark and Norway – and have just taken ourfirst orders for Finland. In fact, we just sent out our biggest order to Norway this week. Getting the right distributor in overseas markets is the key – someone who can establish and sell the brand's point of difference. But basically the brands – Higher Living and Dr Stuarts – are well liked; the packaging hits the right note, people like the blends. We see Scandinavia generally as a good export market – the economy has been holding up better there for one thing. And for us, well, it's cold for a lot of the year, which is good for tea drinking! The show is looking really good. We'll be using it to get to know the market better and meet with retailers."
Sophie Ottaway, Natracare
"We're already selling into Sweden and see it as a real growth market – especially as this part of Europe is so receptive to natural and organic products. We'll be using the show to raise awareness of the brand and build on current sales. Having a Swedish speaking director – Susie Hewson – also helps to open doors, even if almost everyone speaks English!"
• Natural Products Scandinavia takes place on 14-15 October in Malmö. Register FREE at http://www.naturalproductsscandinavia.com
Getting there's a breeze
Getting to the fantastic new Malmö Expo Center couldn't be easier. The easiest way to travel from the UK is to catch one of the regular direct flights to Copenhagen, from where the show venue's own station is just one train stop away – around 12 minutes – by high speed rail. The short trip takes you over 8km Øresund Bridge, offering breathtaking views of the Øresund Strait between Denmark and Sweden.