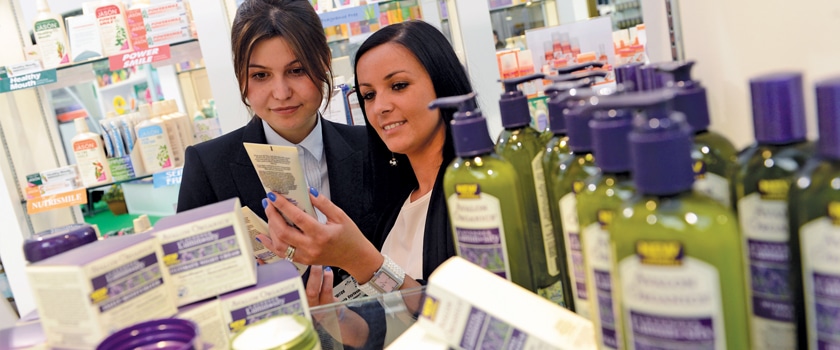 Being quick to adapt to emerging beauty trends and keeping up-to-date with new product developments is key for any successful natural and organic retailer. And there's no shortage of insights and innovations at this year's Natural Beauty & Spa show, which returns to London ExCeL on 2-3 April.
Part of Natural & Organic Products Europe – Europe's biggest trade event for natural and organic products, it will feature over 250 beauty and personal care manufacturers and distributors. While the Natural Beauty Theatre will host dynamic new content from some of the biggest names in the natural and organic beauty sector.
Natural and organic has never been more popular. The movement towards healthier, wellness-oriented lifestyles around the world – complemented by a growing consumer awareness of sustainability, naturality, and ethical labelling, for example, has influenced personal attitudes and ultimately, impacted everyday spending habits. This is certainly true among millennials (the under 35s), who, according to research commissioned by the Organic Trade Board last year, are now the 'most engaged and active' organic consumer demographic. To put that in perspective, there are around 16.2 million millennials in the UK alone.
Of course, they're not the only age group driving sales. Over half (57%) of the 30,000 global consumers taking part in Nielsen's Global Corporate Sustainability Report[1] in 2015, rated a product's natural and/or organic ingredients as a key influence on their purchasing decisions. That figure rose to 69% among those willing to pay more for sustainable products.
Trend spotting
With hundreds of innovations on show at Natural Beauty & Spa – from new formulations to pioneering 'hero' products – there's plenty for retailers looking to stay on-trend in an ever-evolving market. Vegan haircare, intimate hygiene, functional beauty, allergy-free products, massage tools, botanical skincare, do-it-yourself cosmetics and cleansers, and eco-luxury organic are just some of best-sellers of today (and tomorrow) being promoted across the show floor.
Around 30% of this year's Natural Beauty & Spa exhibitors are new to the show. Among them are Daniel Galvin Jnr International, Hayo'u, and SKN-RG.
"I think consumers are becoming more and more aware that what they put on their body, is as important as what they put in their body," says Holly Davies, UK sales & marketing manager at Daniel Galvin Jr International.
"As a result, the last few years have seen a huge growth in demand for organic beauty products, particularly those awarded with legitimate kite marks from independent certification bodies, such as the Soil Association. More recently we have seen sales of totally vegan ranges on the increase, not surprising when you consider there are now over half a million vegans in the UK – three and a half times as many as ten years ago," she says.
Celebrity hair colourist Daniel Galvin Jnr has pioneered the development of organic hair and beauty products for almost two decades. He resolved to create beauty product ranges that would be 100% free of parabens and other nasties years before it became fashionable to do so, explains Davies. Now he sells his brands not only in the UK but Australia and the US too.
For their first appearance at the show, the Daniel Galvin Jnr team will be promoting OrganicHead – a range of shampoos, conditioners and styling products, which recently became the first salon brand to be registered with the Vegan Society, and its Highgrove Signature collection of luxury, certified organic, unisex skincare and gift products (inspired by the fragrant plants from the gardens at Highgrove – the private home of The Prince of Wales and The Duchess of Cornwall).
"Natural & Organic Products Europe gives us a welcome opportunity to connect with buyers who are as enthusiastic as we are about organic products and the key role they now play in the beauty sector. It's also a really important platform to learn more about emerging trends," says Davies.
Transparency
Organic certification has also been a "key component" of SKN-RG's growth. A multi-award winning, organic skincare brand, with a strong results-driven message, it was founded by husband and wife team, Robert and Deborah Scott. Their range of advanced anti-aging skincare solutions are created from premium, natural and organic ingredients and enhanced with SKN-RG Quanta Light Frequency pulses, designed to boost cellular renewal.
They'll be exhibiting their Soil Association certified Organics range, with pre and pro biotics, and Advanced Performance range, including clinically-proven ingredients, such as Acai stem cells.
"Consumers deserve transparency in making their skincare decisions," says Robert Scott. He calls certification – "a differentiator", not only for brands but as a key trend for retailers, particularly at a time when "consumers are increasingly looking at ingredients and moving towards a natural/organic solution".
"We are proud to be a Soil Association licensee and a part of the Soil Association Organic Beauty Pavilion at the Natural & Organic Products Europe show," he says. "The natural and organic sector is filled with so many amazing people with a drive and passion to make natural and organic products accessible to as wide an audience as possible."
"Don't only target the informed beauty consumer," he advises retailers, "market the products on their performance, as well as their natural and organic benefits and credentials."
Consumers want products that fit their lifestyle needs, that are good for them and the environment, but ultimately they have to work.
Innovation is key
"It's no longer beneficial to just be natural," says Katie Brindle, who founded Hayo'u last year.  "Consumer interest in natural beauty has grown exponentially but innovation needs to underpin its mainstream progression.  Natural brands need to celebrate their ingredient and brand integrity but not lose sight of fundamental consumer needs – results."
Brindle, a strong advocate of Western and Chinese Medicine working symbiotically for optimum health, devised The Hayo'u Method to help patients manage their stress levels, by stimulating blood circulation and detoxification.  It's the first UK brand to distil Gua Sha massage – a little known East Asian therapeutic technique that is fast gaining a lot of press, for the at-home market.
"Highly-targeted indie brands are disrupting the status quo and forcing the multinationals to sit up and take notice. What was once a niche space with 'tree-hugging' undertones has been bolstered by lab innovation and tool technology, some of it – ironically – with very ancient origins," she explains. "Hayo'u's Beauty Restorer tool is inspired by a therapeutic massage treatment that's thousands of years old, yet clinical trials provide robust efficacy for the buyer and consumer alike.
"As consumers – especially younger ones – increasingly define luxury by uniqueness not exclusivity, buyers need to ensure they have a portfolio that tracks trends. As #nomakeup gains popularity, products and tools that address skin luminosity and radiance – without the need for colour cosmetics – will be the choice of the early adopters," she says.
The Hayo'u Beauty Restorer and Body Restorer, being exhibited at the show for the first time, are available with free resources and rituals, offering retailers what Brindle calls "a natural alternative to join the tool zeitgeist".
"As a first time exhibitor but regular visitor, I'm thrilled that Hayo'u is now part of Natural & Organic Products Europe – the industry's leading showcase," she says, "I'll be spending lots of time in the Natural Beauty & Spa theatre, meeting natural beauty entrepreneurs and trend spotting for 2018 and beyond."
Over 250 natural beauty companies
Natural Beauty & Spa exhibitors also include Pravera, Beauty Without Cruelty, Eterno Naturals, Urtekram, Ultra Glow Cosmetics, natracare, Nathalie Bond Organics, Faith in Nature, Natura Siberica, Weleda UK, Inika, Soley Organics, Potter & Moore, Good Bubble, Finders International (Dead Sea Spa Magik), AllergyCertified, Amina's Natural Skincare, Organically Epic, Eve Taylor London, Fit Skincare, Absolute Aromas, Alma Briosa, Trilogy Natural Products, DeVita Natural Skin Care, Dr's Remedy nail polish, Natural Senses, Greenfrog Botanic, Love Boo, The Buddha Beauty Company, and PHB Ethical Beauty.
Show features include the Natural Beauty Theatre, New Product Showcase (beauty), nine international pavilions, a new Vegan World area (in association with the Vegan Society), plus pavilions dedicated to Soil Association Organic Beauty, Thai Beauty, and NATRUE.
The initial exhibitor list is now available online at www.naturalproducts.co.uk/exhibitor-list.
"Natural & Organic Products Europe has all the variety and diversity that our team is looking for, all in one place. It's the best show of the year for discovering exciting new natural and organic products and suppliers," says Benjamin Woodgate, marketing director at Whole Foods Market UK.
[1] Source: http://www.nielsen.com/eu/en/press-room/2015/consumer-goods-brands-that-demonstrate-commitment-to-sustainability-outperform.html