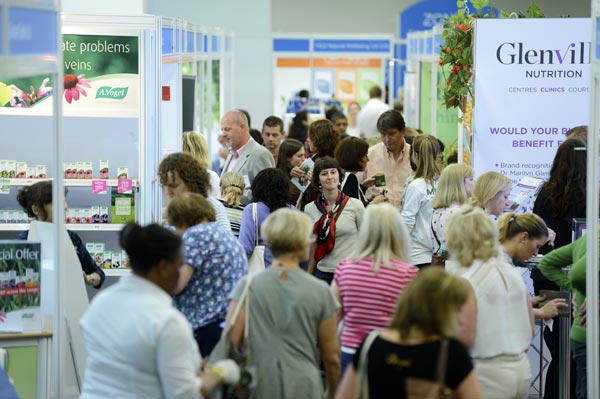 Natural products retailers who head for stand F66 at this weekend's Natural & Organic Products Europe show (ExCel, London, Sunday 17-Monday 18 April) will be able to claim a free trade ticket to camexpo, the UK's leading professional event for the natural health and wellbeing sector.
Head along to stand F66 at the show this weekend (17-18 April) and meet Zoe and Amanda to find out what camexpo has to offer you. You'll be able to register for a free camexpo ticket and claim a Wiley's Finest goody bag (while stocks last).
camexpo 2016 takes place on 24-25 September at Olympia, London. With a dedicated Nutrition Theatre, 48 taster workshops, 11 Keynotes, lively panel debates and a comprehensive business clinic, as well as over 200 exhibitors, camexpo is a must visit for any health store retailer or nutritionist.
New for 2016 – CPD points are also available on all workshops and seminars.
Confirmed speakers for the Nutrition Theatre include BANT chairman Miguel Toribio-Mateas; Dr Robert Verkerk; Antony Haynes; Emma Lane; Dr Britt Cordi; Umharo Cadogan; and Tam Fry, spokesperson for the National Obesity Forum.
Dr Sarah Brewer, Leon Chaitow, Dr Marilyn Glenville, and Professor Robert Thomas, will be appearing in the 500-seat Keynote Theatre.
Here's a preview of what some of them have planned for this year's show:
"camexpo is THE therapist event of the year and serves as the launch platform for sector innovation for both CAM product and service advancements. This year, I will be sharing the latest research in genetics testing and why I have been using Nutrigenomix, utilising 45 genetic markers, which are very relevant nutritionally. I will also be speaking on Natural Alternatives to Sugar and how some are not as 'natural' as we might have thought," says Dr Marilyn Glenville.
"camexpo is starting just as the sun fades for autumn and our vitamin D levels start to decline – an ideal time to talk about all the new research into the importance of vitamin D for long-term health, who would benefit from a supplement, and at what dose," says Dr Sarah Brewer.
"It's always a pleasure to speak at camexpo. This year, I'm looking forward to presenting key information from bang up-to-date research on how the body's metabolism switches fuel sources, i.e. from carbs to fats and back again, and then translating this into meaningful and practical steps. In essence, I will share what it takes to have a metabolism that burns fat for energy, and I will move from the molecular mechanisms in the mitochondria to eating and exercise habits," says Antony Haynes.
"camexpo is the most comprehensive and delicious learning and professional development feast for CAM practitioners in the UK. I love the fact each year camexpo just keeps getting better and better! I am increasingly impressed by the diversity of practitioners who come to camexpo to develop their knowledge and skills. It's a privilege to be able to speak to a group of people, who are on one hand insufficiently recognised by society, and, on the other hand function at the coalface of health, providing services that consistently transform lives for the better," says Dr Robert Verkerk.
camexpo 2015 featured 200 exhibiters, and enjoyed a significant increase in attendees. Motivating, innovative, excellent, fun, relevant and inspiring – are just some of the words visitors used to describe the show.
Bionutri, Nature's Plus, A Vogel (Bioforce), Rio Trading Company Health, Pukka Herbs, Wileys Finest, Vega Nutritional, Biodane, Cell Nutrition, Renew Life, Ovio Wellness, Optibac, Bio-Kult, Cytoplan, Wild Nutrition, Biopathica, Abundance & Health, Yogi Tea, The Natural Health Practice, The Really Healthy Company, The Bite Outlet, Hifas da Terra, Biomedica, Lepicol, G&G Vitamins, Sun Chlorella, Pukka Herbs, The Natural Health Practice, Rio Trading, Weleda, and Green People are just some of the exhibitors that are already booked for 2016.
For further information, visit stand F66 at Natural & Organic Products Europe and log on at www.camexpo.co.uk