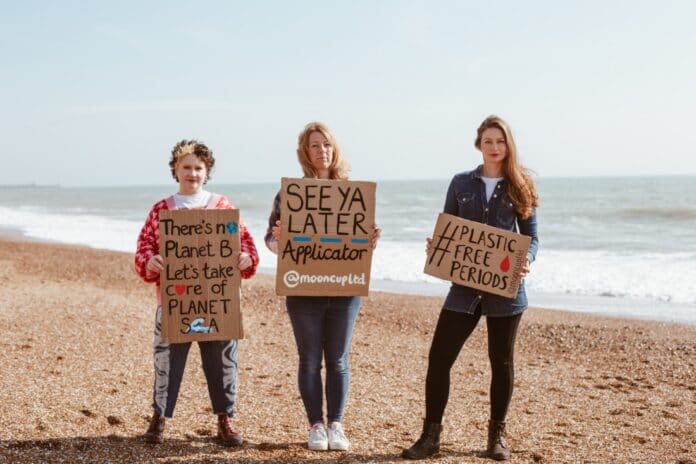 Bite-size pieces of news from Natural Products News
Mooncup has revealed that with over two million consumers having made the switch to its period product, more than three billion single-use period products have been saved from ending up on beaches, oceans and landfill.
Bambino Mio's newest nappy collection Dreamland takes inspiration from the 'land of nod' and includes four new designs: dreamy giraffe, gentle giant, magical moon and feather flight.
For the second year in a row, Love Hemp has been named Leading CBD Brand of the Year in the Commercial Cannabis Awards by Global Health & Pharma.
Indian food brand Geeta's has introduced a range of 9" soft and flexible Roti Flatbreads in four flavours: Sweet Mango & Coconut, Five Seed & Ground Cumin, Spinach & Garlic, and Sweet Onion & Paprika.
Chilled food manufacturer The Compleat Food Group – whose brands include Squeaky Bean – has been named Plant-Based Manufacturing Company of the Year at the Food Manufacture Excellence Awards 2022.
Pip & Nut's new Limited Edition Cinnamon Scroll Almond Butter, created in collaboration with Crosstown, is inspired by the bakery's Cinnamon Scroll doughnut. Crosstown has also created an Almond Butter Cinnamon Scroll Doughnut, with Pip & Nut's Almond Butter.
Plastic-free brand JP's Originals, which produces a range of sustainable artisanal teas, has announced that ithas officially become a certified B Corporation.
Naturtint has launched a new Root Retouch suitable for black hair. The permanent root touch-up hair colourant offers 100% grey coverage and is free from ammonia, resorcinol, parabens and SLS.
After an absence of three years, vegan exhibition VegfestUK London returns to Olympia Grand this autumn, taking place on 12-13 November and coinciding with #Cop27.
Atlantic Natural Foods has relaunched TUNO with fresh, contemporary designs on all products and a new, improved recipe. It has also introduced a fifth flavour, Mild Curry.
Oumph! has created Spicy Drums, a frozen, plant-based alternative to drumsticks. Suitable for air frying, shallow frying or oven cooking, they are high in protein, low in saturated fat and have a crunchy coating.
Oat milk brand Minor Figures has announced that it is now a B Corp certified company.
New MONAT Immune Support provides efficacious amounts of zinc and vitamins C and D, bolstered by herbal extracts echinacea and a natural blend of mushrooms.
HIPPEAS has reformulated and relaunched its puff range to be non-HFSS compliant. Take it Cheesy, Salt & Vinegar Vibes, In Herbs We Trust, Sweet & Smokin' and Sriracha Chilli now have a third less salt and sugar.
Heura has announced a brand new round of investment, inviting change-makers from around the world to join its global mission to accelerate the plant-based protein.
HayMax is supporting Allergy UK's Allergy Awareness Week (25- 29 April) which will focus on promoting better awareness and understanding of allergy which reflects its 'It's Time to Take Allergy Seriously' mission.
Tropical fruit snack brand, Soul Fruit, has signed its biggest retail deal to date, launching its new range into Planet Organic's 13 London stores, as well as online.