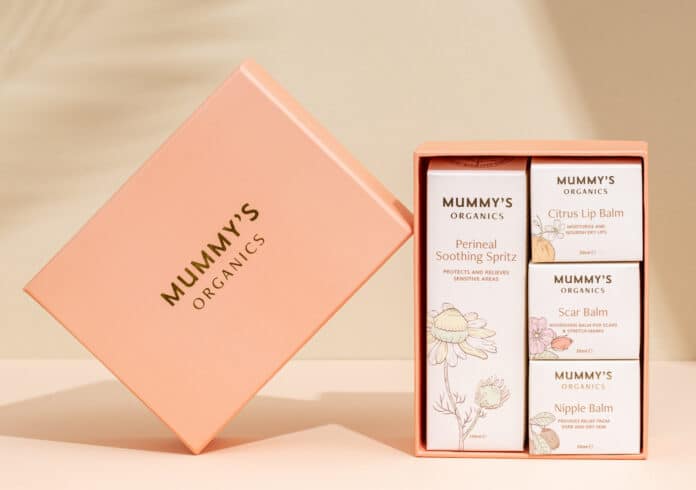 Eco-conscious brand Mummy's Organics has launched with a range of wellness teas and skincare products designed to support happy and healthy pregnancies, births and beyond.
Developed by a team of specialist midwives and a diet and nutrition expert, the plant-powered formulations use 100% organic certified and natural ingredients.
Mummy's Organics' herbal wellness teas provide effective solutions to common issues faced during maternity and incorporate ingredients including Nettle to boost iron levels, fennel to ease digestion and lavender for a good night's sleep.
The blends include: Colic Soothe (Tea For Babies) – a gentle blend of herbs to settle a baby's tummy troubles and relieve common colic symptoms; Birth Ready Tea – with raspberry leaf tea to prepare for labour from 32 weeks of pregnancy; Calm & Tranquil Tea with lemon balm and chamomile which work in harmony to help relieve stress and anxiety. Also available are Breast Milk Booster Tea, Iron Boost Tea, Digestive Tea and Night Time Tea.
The packaging is 100% biodegradable and plastic-free, and the tea pyramids are made from Non-GMO sugar cane. The inner sleeves are made from plant-based materials and can be home composted.
The brand's natural skincare products have been created to address changing needs during and post-pregnancy using ethically sourced ingredients such as rosehip oil which promotes collagen remodelling and healing, to sweet almond oil which increases skin's elasticity.
The collection includes Stretch Mark Serum – a rich serum to hydrate, moisturize and nourish, helping prevent the appearance of stretch marks; Perineal Massage Oil – a delicate oil safe to use for perineal massage from 32 weeks of pregnancy to improve skin texture and elasticity and reducing the risk of perineal trauma; and Labour Massage Oil to promote relaxation, reduce fear and anxiety during labour with frankincense, lavender and geranium to calm and clary sage to help regulate labour.
Other products in the range includes Citrus Lip Balm, Perineal Soothing Spritz, Scar Balm and Nipple Balm.