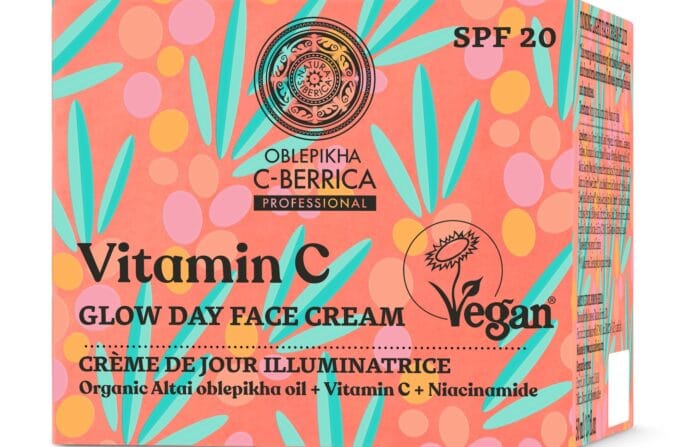 The latest skincare innovation from Natura Siberica is an affordable, Vegan Society-certified beauty collection called C-Berrica.
The products are all based on organic altai oblepikha hydrolate, a rich source of vitamin C which promotes skin condition by boosting elasticity and hydration, as well as enhancing its natural defence system and speeding up the repair process.
The 13-strong C-Berrica line features a Glow Day Face Cream which is designed to refresh and reduce signs of stress and tiredness. It includes niacinamide to help minimize enlarged pores and soften fine lines, improve uneven skin tone, and an SPF20 to help protect skin from the effects of the sun.
The collection's Vitamin Glory Face Mask is enriched with essential vitamins and is formulated to smooth skin and help eliminate signs of fatigue, restoring natural tone and energy. Vitamin A helps boost radiance and antioxidant vitamin E helps minimize signs of premature ageing.
C-Berrica Hydration Face Serum promotes a fresh and radiant complexion, effectively moisturizing and soothing skin, leaving it velvety and hydrated all day. Along with vitamins A and E , it contains hydrolysed rice proteins to increase the skin's ability to bind moisture, increasing flexibility and tensile strength and polysaccharides to boost the skin's natural ability to hydrate and retain water.
Renewal Foaming Face Powder gently foams when it meets water, cleansing skin and helping remove impurities and make-up residue. BHA Acids are incorporated to improve skin texture, speed up skin renewal and deep-clean pores.
The collection is completed with an Energy Face Serum, Toning Light Face Cream, Antioxidant Face Serum, Cleansing Face Foaming Gel, Revitalizing Face Peeling Mask, Ultra-Glow Face Pads, Restoring Face Mask, Turbo Energy Face Mask and Antioxidant Eye Cream.