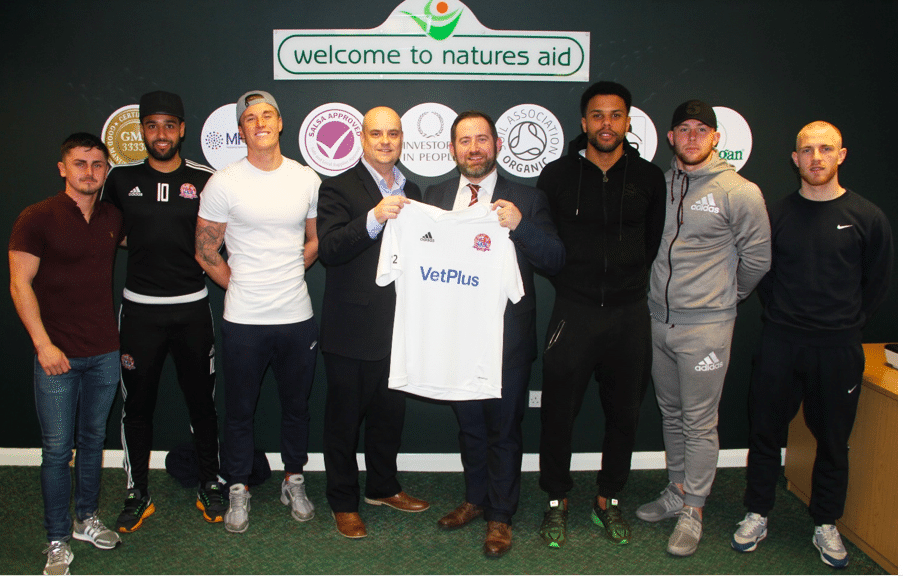 Natures Aid has announced a partnership with AFC Fylde – the football team of Lancashire's Fylde Coast.
The partnership will see Natures Aid take a presence at the team's ground, Mill Farm, and within the team's match day programme. The company will also be the main match sponsor for this Saturday's top of the table clash against Kidderminster Harriers!
Natures Aid have supplied the AFC Fylde first team squad with supplements and vitamins crucial to aiding recovery between games for the remainder of this season. The partnership has been welcomed by AFC Fylde manager Dave Challinor who commented, "We'd like to thank Natures Aid for their support, it's brilliant to be working with a locally based company with a great experience who can offer their products and expert advice to the lads on the run in to the end of the season."
Tim Gaunt, technical director at Natures Aid said; "I am delighted to be working with the players from AFC Fylde with regards to creating a nutritional programme to help achieve optimal performance. The team have a clear goal and I hope that providing the right supplements and advice will help them to achieve this. The supplements that we are using with the players are designed to help them recover more quickly from their training sessions and the games that they play and also provide them with the energy to continue to perform at the same high levels that they have achieved so far this season."
AFC Fylde are currently sitting top of the National League North, seeking promotion to the National League for the first time in their history, with the aim of reaching the football league by 2022.
Picture – Left to right: Caspar Hughes, Brendon Daniels, Dan Bradley, Chris Morrey (Natures Aid), David Broadbent, Dom Collins, Tony Thompson and David Morgan.