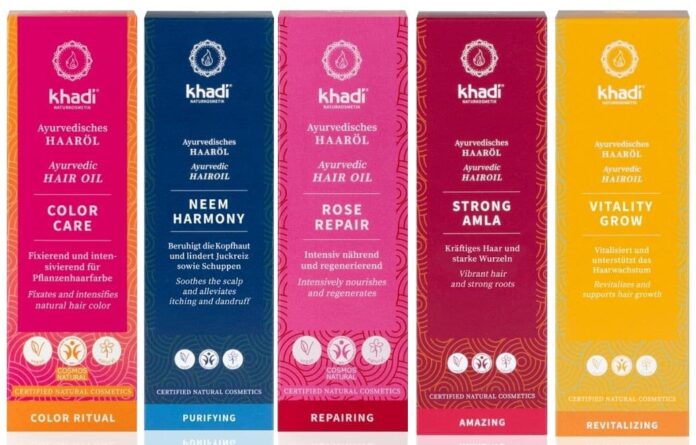 Ayurvedic hair and skincare brand Khadi has launched a line of 100% natural Ayurvedic Hair Oils made according to traditional Indian methods and recipes rich in sustainably sourced active ingredients.
Khadi Ayurvedic Hair Oil Strong Amla is formulated to nourish roots and gently coat every strand of hair to strengthen from within. Deeply conditioning, the oil helps achieve lush, strong hair with medicinal plants such as amla and brahmi, which also help stimulate melanin production to prevent premature greying.
Khadi Ayurvedic Hair Oil Neem Harmony stimulates the self-healing powers of the scalp to restore balance quickly and effectively. Brown mustard oil and neem soothe the scalp and relieve itching and dandruff, while natural tea tree oil gently regulates sebum production.
Khadi Ayurvedic Hair Oil Vitality Grow is designed to give life and energy to hair by providing the scalp with nutrients, strengthening the roots and stimulating hair growth. Plants including rosemary and fenugreek revitalize, and bhringaraj gives the hair elasticity and helps eliminate split ends.
Khadi Ayurvedic Hair Oil Colour Care is 'a unique formula' which naturally binds colour pigments to the hair shaft. The plant extracts form a protective layer around the hair like a glaze which protects it from heat, sunlight and styling, so colour lasts. Senna and centella protect the hair while broccoli seed oil provides intensive care without weighing it down.
Khadi Ayurvedic Hair Oil Rose Repair aims to nourish and regenerate the hair, repairing and strengthening damaged lengths and ends. An intensive treatment, it smooths the hair structure and naturally rebuilds the shaft. The oil combines rose with triphala and moringa to create a nourishing elixir providing moisture, vitamins, antioxidants and minerals to deeply condition without weighing hair down.
The Khadi Ayurvedic Hair Oil range is certified by BDIH according to the international COSMOS standard.