In June, Mindful Store opened in Manchester to offer sustainable brands a simple route to gain greater exposure in a retail environment – not just of the brands' products, but also their stories and ethical credentials.
CEO Vlad Mukhachev, who co-founded the business with Tim Cherkasov and Stefan Cherkasov, told NPN: "Essentially we are a retail store for small and medium-sized sustainable brands. The problem we noticed is that a lot of these brands can't get into retail, so we provide space on a subscription basis to give them the opportunity to directly reach consumers very easily."
Mukhachev says that many start-ups either can't afford to open bricks and mortar stores or it doesn't make sense for them to do so as they may only produce one or two products. "The majority of the brands that are in the store only have an online presence so aren't represented anywhere else. We see the store as a place to discover and test products, to form an opinion about a product and then purchase it either in the store or online, rather than buying impulsively," he explains.
Brands pay a fixed monthly subscription fee ­– which can be for four, eight or 12 months – to have their products displayed, and keep 100% of the sales revenue. Each brand is allocated a separate shelf in one of the areas of the store: Food & Drinks, Health & Beauty, Accessories, Clothing or Home. Mindful Store has an onboarding process, so each brand sends its products to the shop and then these are organized on shelf by the shop team, taking into consideration the brand's specific layout suggestions.
Ethical considerations
Regarding the criteria on which the store takes on a brand, Mukhachev says there are a few specific musts. "First of all is the ingredients; the products are all vegan or vegetarian. Secondly, we look at the packaging; is it recycled plastic or plastic-free? Then thirdly we look at the people. I have spoken with each brand myself so know about the people behind it, how they work, their ethics and so on."
We see the store as a place to discover and test products, to form an opinion about a product and then purchase it either in the store or online, rather than buying impulsively
Mukhachev stresses that there is a strong focus on telling the story behind the product, rather than simply selling it. Each product comes with a QR-code that tells customers more about its background story: where and how it was produced, who the founders of the company are and in what ways the product benefits the planet.
"Another aspect of the store is about sharing knowledge and giving feedback. People can come back to the shop and say this product was good, or you could improve this, because with our business model we have a direct connection with the brand owners. So, once we get feedback – and we're going to push that more and more – our team will call the brand owners and pass it on, give some suggestions about how they could improve. That doesn't happen in conventional retail."
Sustainable construction
The new venture is housed in Manchester's recently opened Hatch retail park, which uses shipping containers for its selling spaces. "Our store is located in two merged shipping containers, and that's also part of our ideology," says Mukhachev. "We are trying to be sustainable, but when we talk about construction it's really hard. We had this unique opportunity not to build our own store, but to use the containers.
"We also figured out that we don't want to be in a place where people just consume and consume, we actually want to be in a place where people go to hang out with friends, to do some conscious shopping. Hatch has already become a social hub; the sense of community is definitely there."
Subscribers can book the store to hold their own brand-specific events, and Mukhachev says that he is also planning to host regular events and workshops for the local community within the shop.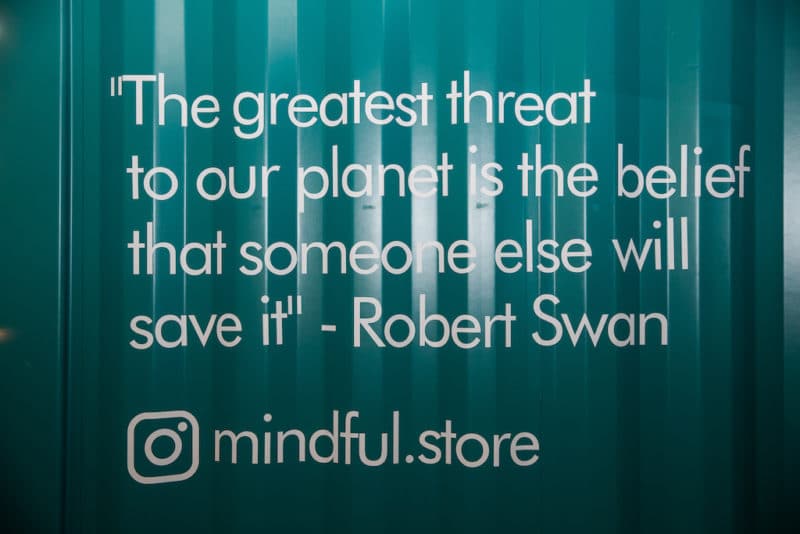 "We are happy and excited that people care about buying sustainable products. When people come to Mindful Store and actually purchase something it really does mean a lot to us. People are already asking for more brands and more products, and that really makes us optimistic that this is needed. The end goal is for people to know that they can come to Mindful Store and shop sustainably; our idea is to collect more brands under one roof and make it simple for them to do their daily shopping."
The 40 sqm space can fit about 60 to 70 brands, and after being open for just a week, Mindful Store had already signed up 31. With this positive response in mind, what does the future hold for this innovative start-up? "The plan is to first make sure everything is running smoothly with this store, but definitely by the end of this year we'll be working on our second location," says Mukhachev. "The location will largely depend on feedback and seeing where it is needed the most. We already have people direct messaging us on Instagram. We definitely have to think about growing because brands are really interested in being in more than one location, that's really important for them."
Main image: L to R – Stefan Cherkasov, Vlad Mukhachev and Tim Cherkasov