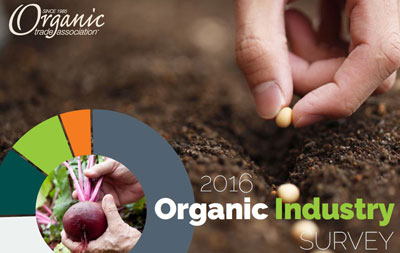 The booming US organic industry posted new records in 2015, with total organic product sales rising to $43.3 billion, up a robust 11 percent from the previous year's record level and far outstripping the overall food market's growth rate of 3 percent, according to the Organic Trade Association's 2016 Organic Industry Survey.
The survey shows that nearly 5% of all food sold in the US is organic.
The industry saw its largest annual dollar gain ever in 2015, adding $4.2 billion in sales, up from the $3.9 billion in new sales recorded in 2014. Of the $43.3 billion in total organic sales, $39.7 billion were organic food sales, up 11 percent from the previous year, and non-food organic products accounted for $3.6 billion, up 13 percent.
2015 was a year of significant growth for the industry despite a continued struggle to meet high consumer demand for organic. Supply issues persisted to dominate the US organic industry, as organic production in the country lagged behind consumption. But, says the OTA, the organic industry came together in proactive ways to address the supply challenge, improve and develop infrastructure, and advocate for policy to advance the sector.
"The industry joined in collaborative ways to invest in infrastructure and education, and individual companies invested in their own supply chains to ensure a dependable stream of organic products for the consumer. Despite all the challenges, the organic industry saw its largest dollar growth ever. Organic will continue to be the most meaningful farm-to-fork — and fibre — system," said OTA's CEO and executive director Laura Batcha.