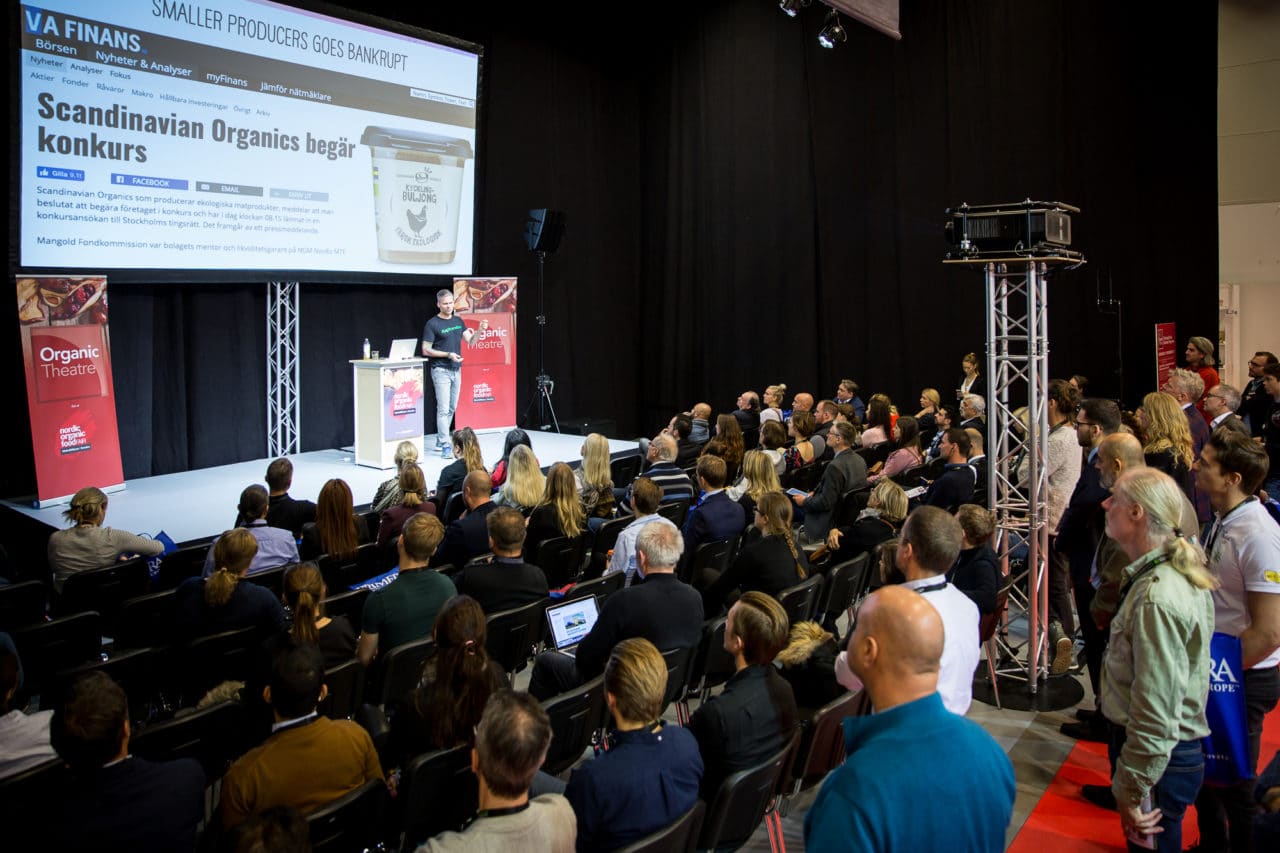 Leading organic organisations and industry thought leaders – including Organic Sweden, Eosta BV, Business Sweden, Coop, Grönsakshallen Sorunda, Moreganic Sourcing AB, Organic Farmers & Growers UK, Natural Products Global, Ekoweb, Euromonitor International, and EkoMatCentrum – will join an impressive speaker line-up in the the Nordic Organic Food Fair's Organic Theatre, over 14-15 November, at MalmöMässan in Sweden.
The impact of Brexit, plant-based protein, Swedish exports, trends in the Baltic market, Nordic health and wellness in foods, the Swedish organic market, and global organic trends are just a few of the hot topics up for discussion in over the two days.
Free for all visitors to attend – including buyers, retailers and managers from health stores, pharmacy chains, wholesalers, distributors and public kitchens – the sessions provide expert advice and insight into a constantly evolving market.
Natural Products Globaleditor Jim Manson, who will be hosting session on the launch of an exclusive new Baltic Market Report on the first day of the show, will also be sharing some key global organic trends in the Organic Theatre at 12pm on 15 November.
Global organic insights
"On Natural Products Global we are constantly scanning hundreds of specialist and national news sources for the latest developments from organic markets worldwide.  I will compress the key milestones of the last 12 months into a fast-paced round-up of global organic trends," says Manson.
"On the way, I'm going to be checking in on the latest market data, the biggest commercial deals of the year, key product and consumer trends and the changing regulatory environment.  I'll also take a look at the industry's 'new disruptors', who want to shape their own vision for organic – and I'll show how they are already changing the discussion," he says.
Switching the focus to the Nordic region, David Hedin, senior analyst at Euromonitor International will be discussing the development of health and wellness (in foods) in Denmark, Finland, Norway and Sweden and will be sharing analysis of how the markets interact regionally.
As well as this, Sweden, will meanwhile be showcasing statistics on Swedish exports from an international perspective at the end of the first day (14 November).  And Cecilia Ryegard, editor and founder of Ekoweb, will provide businesses and organisations with latest figures and trends from the Swedish organic market, in the first session of the second day (15 November).
From Brexit to plant-based protein
With a potential Brexit deal imminent  conditions for organic trade to and from the UK may well  emerge by the time show opens.  Industry experts, including Roger Kerr, CEO of Organic Farmers and Growers UK, Jonas Englund, global business developer (Västra Götaland) at Business Sweden, and Emma Yeats, operations manager at the Soil Association, will provide exclusive insights around Brexit at the regulatory level, as well as the commercial business level – providing visitors with some much-needed clarity around the turbulent subject.
And as the popularity of plant-based diets continue to grow, Louise König, consultant (formerly with Coop), and Michaël Wilde sustainability and communications manager at Eosta BV (international distributor of organic fruit and vegetables), will be highlighting the current trends around eating organic fresh fruit and vegetables for protein, and where the plant-based sector is heading.
For the full seminar line-up and timings, visit www.nordicorganicexpo.com/education/organic-theatre.
Free visitor registration
The Nordic Organic Food Fair, co-located with Natural Products Scandinavia, will return to Malmö, Sweden, on 14-15 November.  Established as the 'go to' show for discovering new ideas and concepts in the region, thousands of food buyers, retailers and foodservice professionals will be among the first to discover the next best-sellers and exclusive launches from over 500 leading exhibitors.
For more information and to register for a free trade ticket, please visit www.naturalproductsscandinavia.com  or www.nordicorganicfoodfair.com and use priority code NPUK429 (direct link: www.eventdata.co.uk/Forms/Default.aspx?FormRef=NPSB8Visitor&TrackingCode=NPUK429).