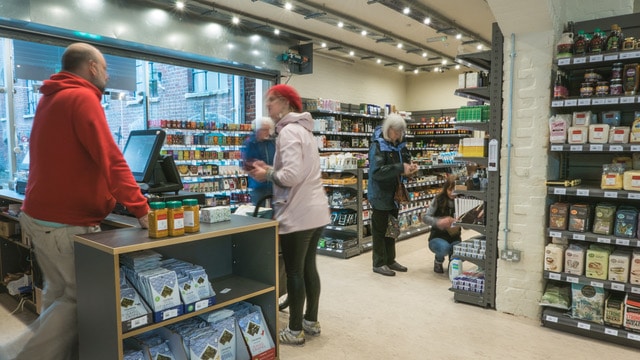 One of the UK's longest established wholefood shops, Rainbow Wholefoods in Norwich, has finally returned to its permanent premises of the stables of an old fire station after they were devastated by fire in April 2018.
Although the structure of the listed building was unaffected by the fire, everything in the shop had to be disposed of due to being burnt or smoke damaged, so a complete refurbishment was carried out, including new ceilings, floors, lighting, counters and tills.
"We were closed for a month and then opened in a temporary shop about 100 yards away in the Norwich Lanes," Rainbow Wholefoods owner Richard Austin told NPN. "It took a couple of weeks for everyone to find us again, but before long we were able to trade at our usual levels. We have only been back a week but our sales levels are very nearly up to normal and that's in spite of the fact that our beautiful new fridges are still only halfway between Italy and Norwich."
Austin says he made use of the situation to enhance the store. "We tried hard to make the room feel a little lighter and more roomy by careful attention to the lighting fixtures as well as the light cast. We also looked closely at the use of colour with the walls, ceiling and our rather expensive eco-friendly recycled flooring. We used our collective expertise to tweak the dimensions of our shelving as well. Our regulars keep coming in and insisting that the shop is bigger, although in reality it is exactly the same size."
So has the store seen a grand reopening yet? Well, after moving the entire stock by hand – '15 pallets of wholefood and 11 very tired wholefooders' – from the temporary premises to the stables in Labour in Vain Yard between 6pm on Saturday and 9am Monday, when it reopened, the team were somewhat fatigued. "The whole team is emotionally and physically exhausted, but very happy indeed," says Austin. "At the end of our first day trading we raised a glass with the builders, the flooring and lighting people as well as some of the neighbouring businesses that have so kindly supported us throughout our long year away. It was lovely to be in that room with those people and to know that our huge effort was nearly over. When we have had a chance to draw breath I'm sure we will find a chance to celebrate properly."
"It has been thrilling to return to our peaceful yard in the middle of bustling Norwich," he concludes.