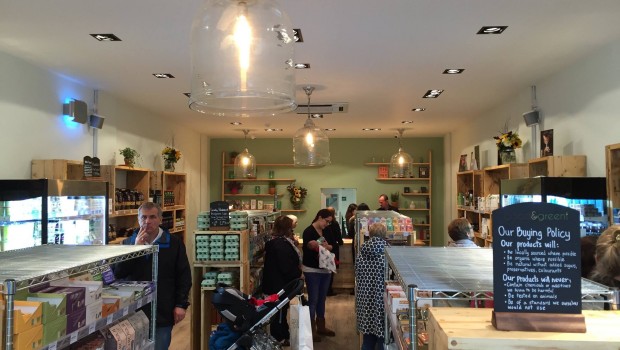 East Grinstead has welcomed a new health food shop onto its High Street, Good and Green.
The store is a refreshed and expanded version of what was a small supplement store nearby, and was opened by Lizzie Calcioli partly to raise the profile of its own range of vitamins in the area. "First and foremost we are a natural food store," explains store manager Matt Woodhead, "but we wanted to raise the profile of our own brand of supplements, G&G Vitamins, a family-run business based in East Grinstead which has been providing people with supplements for the past 50 years."
The 800sq ft store, located in London Road, lists over 1,200 lines, with a product mix which aims to be as organic and local as possible. Woodhead, who worked at Planet Organic for over ten years, describes the store's profile: "It's very much based on, but not a blueprint of, Planet Organic – the categorization of the ranges that we sell is similar. Most of what we stock is imperishable, we have anything from pasta to crackers to cereals to non-dairy milks, chocolate, snacks, baby food, paleo, raw, biodynamic, and also do health and bodycare – within the size of store we have there's quite a comprehensive range."
What to stock?
So how are the products chosen? "As far as our criteria is concerned it's very much about sustainability; we're ethical so basically we're saying our products will be organic where possible, all natural, nothing tested on animals, and local – we've got a local fresh bread range from Flint Owl organic bakery in Lewes, locally produced biodynamic eggs – I believe we're the only high street retailer to be selling biodynamic eggs in the UK. I went to lots of farms and bakeries in the area to find what I think is the best range as far as quality is concerned, but it also had to meet our buying criteria so it had to be organic and of a very good standard."
The store also stocks lots of well known local brands including Cocoa Loco, Conscious Chocolate and Higher Living teas. "We've really tried not only to offer a comprehensive range but also one through which customers can support local producers as well," says Woodhead.
As to the store's look, he says: "It's quite a unique layout, with boxed shelves made from reclaimed scaffolding boards which have been rubbed down and oiled. We've had so much feedback about how beautiful the store looks and feels. We're trying to capture those people who are currently getting into their cars and driving out to the farms around the area to buy their produce; encourage them not to do that, but to come to their local East Grinstead High Street because it's all here in a lovely environment."
Educating and informing customers is paramount to the store's ethos. "We've got trained members of the team who know the supplement and nutrition business very well, so people we can advise on health issues. We also have the Vitastiq app, which I think is the first ever personal vitamin test, on an iPad in the store which allows people to come in and measure their vitamin and mineral levels. They then get feedback about what they may need as either a supplement or additional food to ensure their levels improve."
Spreading the word
The store intends to ensure its marketing and advertising is influencing as many people as possible to go to the store. "We're already part of the East Grinstead Business Association and are trying to make sure we get the word out that we are here," says Woodhead. "We have regular tastings and events, for example we had a mini makeover afternoon where we invited people to get a free mini makeover and give feedback on the organic make-up range we have. These events are hugely important, certainly from where we are as a young business at the moment."
And to further engage people the store has themed months with product offers and discounts, so in February it is pushing paleo, March is immunity, then gut health. "Throughout the course of the year we have a promotion calendar that's really tuned in to raising the awareness and profile of the categories within the store, but also to educate customers," says Woodhead. "We've got literature around the store that tells people about the products ranges that we have, for example we have information about raw, why it's good for you and how it could help to have this kind of diet.
Getting social
Woodhead says that social media is hugely important and that the store has a lot of followers already. "Having worked for Planet Organic for ten years I have seen how the industry has moved on – Twitter and Facebook weren't really around when I started. I have seen what Planet Organic has done and learned from my experiences there. It now has a dedicated team who engage with people on social media, incentivising them to come into the store. Obviously we are a much smaller business, but the same rules apply. We need to engage people through our social media, so we have a colleague in store who will pop up different pictures on Facebook if there are any new lines or in-store events to ensure people are aware of what's happening."
Good and Green also has a reward card with over 500 people registered. "It's £1 a point so if you spend £100 you get £5 – a 5% discount, so it's really quite a generous scheme and encourages people to return to the store," says Woodhead.
So what does the future hold or is it too early to say? "We're very keen, and this is just a start," he explains. "We've got to refine what we're doing here at the moment. We're not planning to take over the world, but before I came here I went to Sevenoaks, Tunbridge Wells, areas around the outside of London and there really isn't anything going on. The feedback has been absolutely fantastic since we've opened, people are very impressed and are coming in saying this would work in Tunbridge wells, for example. So the plan is that we are looking at other opportunities in other towns around this area."