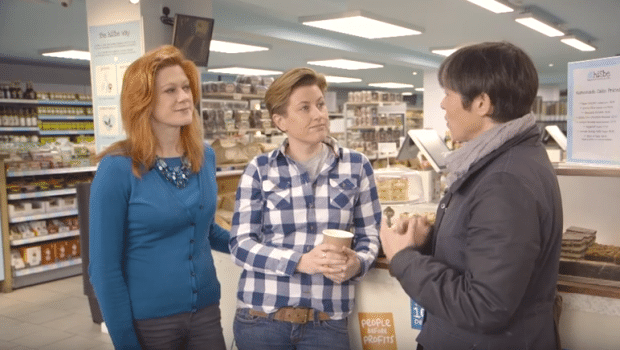 Ethical supermarket HisBe was the focus of the first episode of a new series The Food Rebels, aired earlier this month on Community Channel.
Natalie Savona (from BBC Three's Freaky Eaters) met Ruth and Amy Anslow, founders of HisBe in Brighton to discover the ethos behind the supermarket.
"There are four big ways in which HisBe is different to a normal supermarket," Ruth explained to Savona. "The first way is that we are a social enterprise and we make a fair profit – we put our profit into customers, suppliers and staff rather than shareholders and directors pockets; the second way is that we help grow the local economy so 50% of what we spend stays in Sussex; the third way is that we create happy communities, we're really about fostering happiness and friendship and community in the store; and finally we stand up for a more responsible food industry so we're really into ethical, fair and sustainable sourcing and trading."
Savona also interviewed some of HisBe's suppliers, including Downsview Farm's Sarah Farnes and asked her about the difference between working with HisBe and some of the other supermarkets. "They care," said Farnes. "They actually care about giving us a decent price." In fact the farm makes about 50% more for their milk selling to HisBe than if they sold to a dairy. "It's the difference between us going under and us staying afloat – it's as simple as that," she added.
The series visits leading food projects which are "shaking up the system", highlighting the best projects, produce and farming techniques that local food groups have to offer.