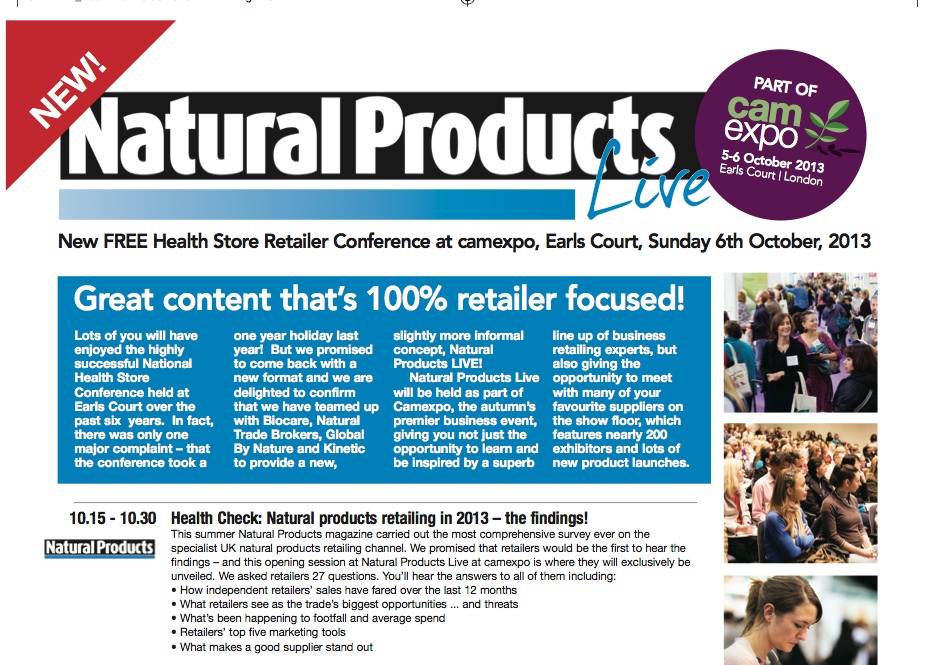 The programme for Natural Products Live at camexpo has just been published.
The dedicated health store event, developed around a series of 100% retailer-focused talks and workshops, is the must-attend event for natural products retailers this autumn.
As well a featuring a brilliant, business-focused education programme, the event is a valuable networking opportunity for store managers and their teams – the perfect place to meet with colleagues and friends and share knowledge and experiences. And because it takes in a special new theatre at the busy camexpo show, retailers will also get a chance to meet their favourite suppliers and be the first to see 100s of new health, nutrition and beauty products.
Natural Products Live at camexpo brings together leading retail trainers and business advisers, regulatory experts and experienced retailers. Here's a taste of what to expect on the day
• Health Check: Natural Products Retailing 2013 – the findings. We unveil the findings of our major new survey of natural products retailers.
• How to succeed in today's multi-channel retail world
• Get your store noticed with a Google Virtual Store Tour
• 'Quick' win' actions you can take to win and keep new customers
• Health stores as guardians of access to natural healthcare – or how campaigning makes great business sense!
• Be a local campaigner for natural health choice – and boost your business!
• Your staff and employment law – what YOU need to know
Natural Products Live at camexpo is FREE for natural products retailers. To confirm your place, please email Ami Giles at [email protected] asking for a registration form or call her on 01273 645110.  Places are limited so don't delay!