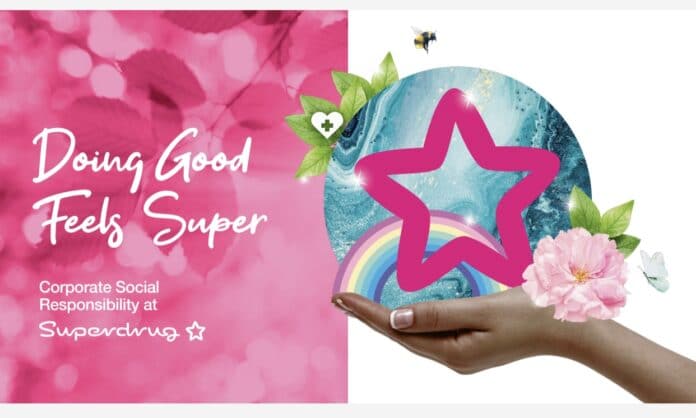 Superdrug has launched its first Corporate Social Responsibility (CSR) report to coincide with a business-wide CSR campaign, Doing Good Feels Super, which ran through May across its in-store, digital, PR and social channels.
"I'm incredibly proud to be releasing our first ever CSR report, which is reflective of a huge amount of work and a dedicated passion for making a difference across our teams," says Nigel Duxbury, head of the CSR committee and Superdrug property director. "The report details the great progress we have made so far across all of our strategic pillars, but also recognizes that we're on a CSR journey.
"I'm delighted to say that we have set some strong targets for the next five years and are also close to finalizing ten year targets above and beyond our 2025 commitments. Superdrug's mission is to be the best in everyday accessible beauty and health, but always with guiding principles and strong values at our heart. And so we remain dedicated to our CSR agenda and place continued focus and pace on all of our activities to evolve and improve what we do."
The report focuses on key achievements within four strategic CSR pillars: planet, community, customer and people. Highlights include:
The commitment that by 2025 100% of plastic packaging will be reusable, recyclable or compostable and 100% of paper used in packaging will be certified sustainable
The launch in 2021 of 100% recycled plastic bottles for the retailer's own brand hair range, while own brand toothpaste tubes will be fully recyclable and all wipes biodegradable
A partnership with Beauty Banks will place over 100 donation bins in stores to help bring an end to hygiene poverty across the UK
The launch of the Shades of You campaign, which outlines commitments to black and mixed heritage customers.
Superdrug's Doing Good Feels Super campaign will include enhanced deals and promotions will be activated across ethical product ranges. The full report can be found here.