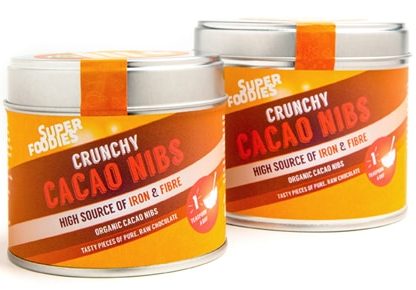 As of September, superfood brand Superfoodies is beginning the process of switching all of its products from plastic pouches to recyclable and reusable tins.
Initially it is introducing 11 of its superfoods in 50g or 90g tins, including Cool Chlorella, Sporty Spirulina, Marvellous Matcha, Astounding Ashwanganda, Mysterious Maca and Crunchy Cacao Nibs. "We have improved the designs and also personalized the products and giving them an identity which I think helps people newcomers to superfoods and nutrient-dense foods a handle to get hold of," Mark Long, business development manager at Superfoodies told NPN.
"We have a very comprehensive range so it is going to be a phased introduction. The goal is to bring about a complete shift in the course of time. For 80% of the superfoods – say the core 15-20 products – the shift will definitely take place within the next few months. We're getting the Plastic-Free Trust Mark – we'll be the first superfood producer in the world to have that so that is really exciting and it's an example of how we are ahead of the curve," he adds.
The new tins are being positioned as a 'teaspoon a day' selection to encourage consumers to add just one teaspoon to their breakfast, smoothie or juice to get a daily nutritional boost.
Superfoodies says the tins are easier for retailers to display effectively, says the brand, as well as being handier for consumers because they are resealable and stackable. They also have on-pack messaging that clearly communicate allowable health claims to customers, says the brand.