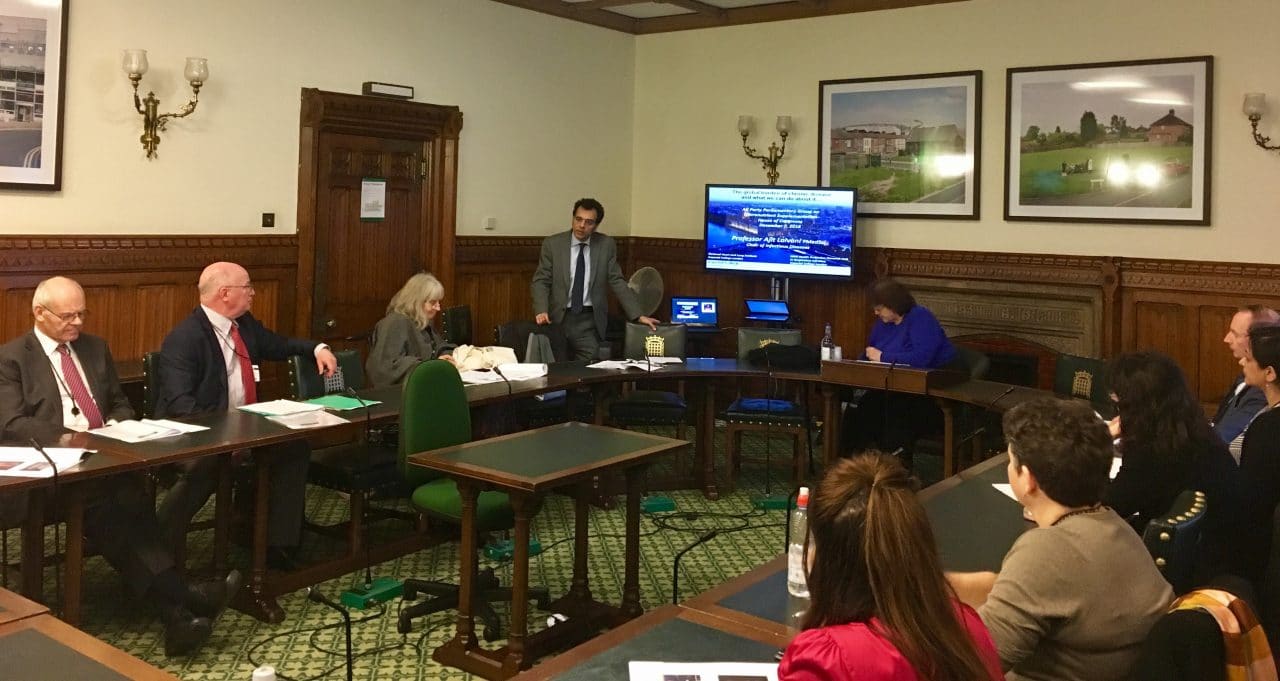 Vitamin and mineral supplementation can play a key role in tackling micronutrient deficiencies that are contributing to a "global pandemic" of chronic disease.
That's the view of prominent medical researcher professor Ajit Lalvani, who was keynote speaker at the third meeting of the All Party Parliamentary Group on Micronutrients and Health in London yesterday.
Professor Lalvani, who is specialist in infectious diseases, told the meeting that there is a "global pandemic" of non-communicable diseases such as coronary heart disease, hypertension, diabetes, obesity, cancer and Alzheimer's Disease.
The burden of non-communicable disease, he said, now "dwarfs that of infection and is growing faster". Worryingly, these diseases are becoming common in developing countries – 80% of CVD deaths occur in low income countries, for example  he said.
Lalvani said that the root causes of the major chronic diseases stem from three things – diet, genes and lifestyle. The contribution of diet to the global burden of diseases was enormous, he said, with "poor quality diet now the number one risk factor for premature death and disability in the US".
Switching from a poor to healthy diet could dramatically reduce an individual's risk of developing chronic diseases, particularly over the long term, said Professor Lalvani. But as well helping prevent disease, he said, evidence is building for the role of diet in treating disease.
Lalvani said that, contrary to the idea that we are stuck with the genes we have, recent research shows how changes to diet and lifestyle can actually change our genes. "We are learning that our genes are not our fate," he said.
"We are learning that our genes are not our fate"
But he said that the behavioural changes needed to move people to healthier diet and lifestyle are often difficult to achieve. Because of this public health policy in this area is generally cautious. For example, while the actual recommendation is to eat nine portions of fruit and vegetables a day, most countries advise 5-a-day (although Canada advises 9-a-day). Since most populations don't achieve 5-a-day, let alone 9-a-day (in Britain the average is 3-a-day, while some groups get none), there is "significant prevalence of deficiency in folate, vitamin D3, iron, zinc, selenium and vitamin C".
Lalvani said that said that encouragement to eat a healthier diet must continue but added that "dietary transition is long-term process of cultural and behavioural change" and that "getting the right diet (9-a-day) is almost impossible". For this reason, micronutrient supplements should form "part of a healthy diet and lifestyle package".
Lalvani argued that the biggest positive public health impact would achieved by a shift towards "shared decision-making, self-care and behavioural change". And he said that food supplements had a crucial role in "bridging the gap between what we should eat, and what we do eat".
The APPG on Micronutrients and Health is chaired by Rosie Cooper MP who specifically praised the Health Food Manufacturers Association's efforts in promoting training and education and the highest quality standards of products and services (The HFMA manages the secretariat for the new Group).
• Additional reporting on the discussion that took place following professor Lalvani's presentation, and a progress report on the meetings to date, will be posted in the coming days.