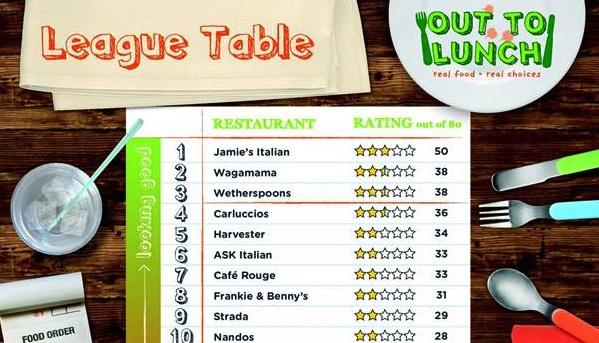 Britain's leading restaurant and pub chains are still giving children across the UK a raw deal claims a new report from the Soil Association and Organix.
The report shows that children's menus are dominated by the 'usual suspects ' – nuggets, burgers and sausages – and that few fruit or vegetables are on offer. Only one of the restaurants surveyed offers children's cutlery.
The report – produced as part of the Out to Lunch campaign – ranks 21 top food chains on their children's food provision. Jamie's Italian, Wagamama and Wetherspoon's score highest, with Burger King, KFC and Prezzo scoring lowest.
The report says that even after the 'horsesgate' scandal only one chain – Jamie's Italian – could reliably tell parents where its meat comes from. And only 11 out of the 21 chains were willing to tell researchers if their food was freshly cooked – just four (Jamie's Italian, Wagamama, Carluccios and Café Rouge) were making and cooking the majority of their children's food in the kitchen.
The investigation shows 66% of parents think the food provision for children in restaurants is not good enough.
Now Out to Lunch is calling for the restaurant industry to improve standards and make changes to their children's menus.
Joanna Lewis, head of policy at the Soil Association commented: "Our investigation reveals that most high street restaurants are not even meeting the most basic standards families should expect when they eat out. Most are still churning out children's menus dominated by the usual suspects – burgers, nuggets and pizzas –turning the table into a battlefield for any parents wanting their child to eat well. With one in three children now overweight or obese by the time they leave primary school, it's time for these popular chains to use their influence in a positive way."
Anna Rosier, managing director at Organix said: "Four out of 10 parents (40%) told us they eat out once a fortnight or more with their families. If restaurants and pubs want to ensure business stays strong and see customers return, they need to start improving what they're serving to children.
"We want families – parents, grandparents, aunties and uncles – to help get behind our campaign to see change. Restaurants will only start improving if we start being more vocal about what we're seeing and vote with our feet."