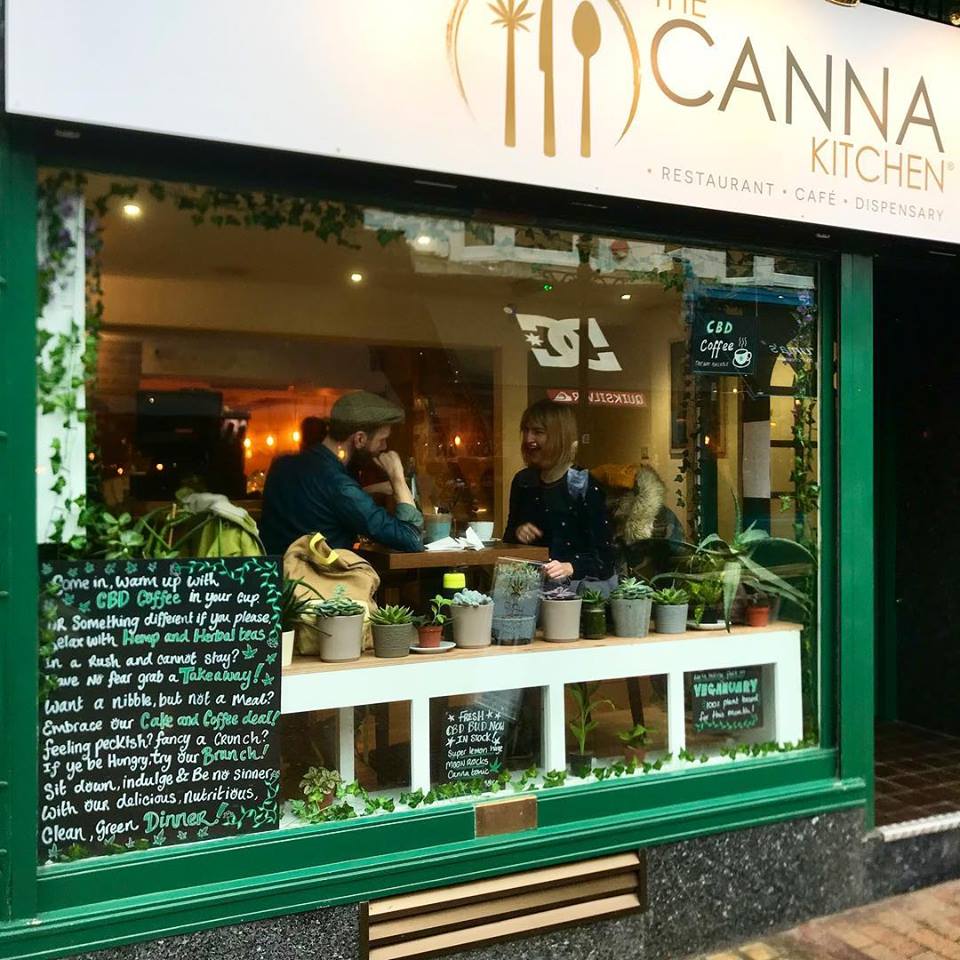 Canna Kitchen, the Brighton restaurant that opened in December claiming to be the first in the UK to offer cannabis-infused cuisine, was raided by Sussex Police on 8 May.
An official statement from Sussex Police confirmed they carried out three raids across the city in connection with an investigation into money laundering and supply of class B drugs and that 'a significant quantity of herbal cannabis was seized' at a shop in Duke Street.
Commenting on the incident, a spokesperson from Canna Kitchen, which is based in Duke Street, in The Lanes area of the city, says: "A quantity of stock was seized from our shop today. Our products are defined as industrial hemp, and are clearly and transparently imported as such, with all taxes and duties paid. Our products contain CBD and trace elements of THC in line with the UK legal guidelines for pharmaceutical definitions and UK legal definitions of CBD products.
"If trace elements of THC render these products illegal, then by default all CBD products must be illegal in the UK. This would mean that many large high street chains are currently breaking the law."
"Hemp flower can be found in any hemp tea bag, that you would find in any supermarket or health food shop in the country," the spokesperson adds. "We have never in the past year-and-a-half had any confusion over the legality of these products, and are disappointed with the heavy-handed approach of the Sussex Police force today."
When the restaurant initially opened, its director Sam Evolution said he was aiming to redress dated stereotypes of cannabis. "The numerous beneficial properties of the cannabis plant have always inspired me. It is one of the most versatile crops in nature, with potential applications in almost every area of our modern life. It also happens to be the most nutritionally complete human food source on the planet, with a host of therapeutic benefits. We are seeking to change misconceptions around this plant by introducing it to people in a form they may not have encountered before."
The Canna Kitchen, which also houses a café and retail shop selling CBD products, took to Facebook on 19 May to explain why it had to close until further notice. "Unfortunately it is almost impossible for us to reopen while all of our laptops and iPads are being held by Sussex police," says the post, adding: "We have invited Sussex Police to sit down and discuss matters with us, but they have so far declined to do so, saying they are not ready." The post ends: "We are sorry to those of you who have had cancelled bookings. We shall be making our next moves based on how things develop over this coming week. In the meantime, keep your eyes on mainstream media."